HydroWorx is Heading to The PFATS Vendor Show Next Week!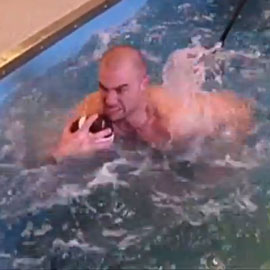 We are proud to be a part of the annual PFATS (Professional Football Athletic Trainers Society) Vendor Show next week in Indianapolis, IN. The PFATS vendor show is held annually in conjunction with the NFL combine and is open to 60 vendors each year. HydroWorx, table #4, will be in attendance for the one day meeting on February 18th.
Athletes are always looking for ways to break through barriers, remain healthy and ultimately stay in the game. Aquatic therapy allows athletes to accelerate surgical recoveries, experience relief from pain and improve strength and fitness levels.
After any type of setback or surgery, increasing mobility is a top priority. Incorporating warm water therapy into an athlete's rehabilitation program enables them to begin rehabbing sooner than on land. Additionally, exercising in water eases an individual's fear of falling or re-injuring themselves. What's more, athletes see improvements quickly in the water; creating a positive attitude conducive to healing.
Stop by table #4 to meet with HydroWorx representative, Ben Grinnell, to learn of exciting and relevant case studies as well as the many benefits of aquatic therapy and exercise.
Some of the benefits and uses for aquatic therapy include:
Rehabilitating faster from surgery.
Increasing overall endurance levels.
Enhancing leg strength.
Improving and maintaining cardiovascular fitness while injured.
Enhancing power and explosive movements.
Recovery and regeneration post-workout or post-competition.
We are looking forward to meeting with you in Indianapolis!
To learn more about the benefits of aquatic therapy for the rehabilitation of athletes, tune in to the free webinar this Thursday! On February 13, 2014 from 11:00am-12pm EST, Steve Kemp, Elite Football Physiotherapist & Physiotherapist to the Senior England Men's Team at Perform at St. George's Park, will be presenting a free webinar titled, "The Use of Hydrotherapy for Early Progression of Rehabilitation Protocols." In this webinar, Kemp will give an overview of the criterion based rehabilitation philosophies used at Perform at St. George's Park, and how hydrotherapy is used in the early phases of rehabilitation to challenge the athletes to stimulate improvements in neuromuscular control and progressively load.