HydroWorx is Headed to Milan, Italy for an International Sports Medicine Event
HydroWorx will be attending and exhibiting at the International Conference on Sports Rehabilitation and Traumatology, March 22nd and 23rd. This year's theme and topic is Football Medicine Strategies for Joint & Ligament Injuries.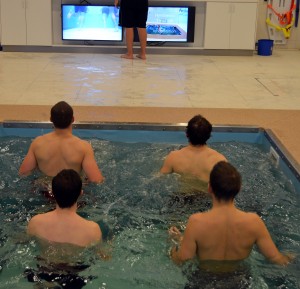 This event was held the past two years in London and now returns to Italy, the home of the event organizers, Isokinetic Medical Group.
There are various opportunities to attend debates and discussions between different professionals of the field, such as sports physicians, orthopedic surgeons, psychiatrists, radiologists, physiotherapists, team managers and athletic trainers.
Injuries to joints and ligaments can occur during sporting activity, with a significant incidence in football (USA soccer). Over the three conference days, discussions will take place covering topics relating to prevention, surgery, rehabilitation and return to play of the footballer.
For more information about this international event visit the conference website.
Stop by and visit with our two HydroWorx representatives at stand #22 throughout the conference. Find out how HydroWorx aquatic therapy pools can make a difference with your athlete's rehabilitation and recovery.
HydroWorx aquatic therapy offers early advantages that land does not:
Athletes are able to do exercises in the water that they are not able to do on land because of pain or functional limitations.
The non-weight bearing environment eases pressure on joints for the athlete to move freely and expedite the functional processes of rehab.
HydroWorx therapy allows you to intensify the work performed without increasing the risk of pushing the athlete beyond the limits of the rehab progression.
The hydrostatic pressure of water naturally decreases inflammation and increases circulation, never leaving muscle soreness.
HydroWorx allows you to easily bridge the athlete from therapy to training.
We are looking forward to meeting you in Milan and sharing more about the benefits of warm water aquatic therapy!
Now Accepting 2014 Excellence in Aquatics Award (SMED) Submissions!
The 2014 Excellence in Aquatics Award will recognize professionals who, despite all odds, garnered superior rehabilitation results through innovative, and sometimes unconventional, methods. Eligible pioneers rely on aquatics as a medium to help achieve exceptional results. We are proud to announce the opening of the 2014 Excellence in Aquatics Award Submissions!