HydroWorx Family Mourns the Loss of Aquatic Research Pioneer and Friend, Dr. Dennis Dolny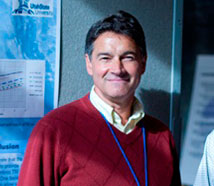 The HydroWorx family is recovering from the shock of losing a dear friend, colleague and aquatic therapy advocate. Dr. Dennis Dolny has been considered an integral part of HydroWorx for close to 10 years.
Dr. Dolny and his aquatic therapy research has impacted our business dramatically. He co-authored the book "Underwater Treadmill Running" with Alberto Salazar. He was a key contributor to the book "The Use of Aquatics in Orthopedics and Sports Medicine Rehabilitation and Physical Conditioning." He conducted over 45 presentations on aquatic therapy, was involved in approximately 10 research studies and his efforts contributed to at least 20 pool sales.
While positively impacting the business side of HydroWorx, more importantly he also:
Instilled excitement in employees. The combination of his scientific knowledge and his love of words, made it easy for anyone to get excited about aquatic therapy after talking to him.
Became a lifelong friend of many. Dr. Dolny traveled with HydroWorx employees over the years and was always a joy to be around. His infectious excitement and funny stories provided memories that will not quickly fade.
Always made us laugh! Although his intelligence surpassed most of ours, he loved to enjoy life and there was always fun and laughter when we were with him.
See a few memories from HydroWorx employees:
"Dr. Dolny and Dr. Bressel did two great webinars for us that were hosted by the ICAA. They presented their research on aquatics for osteoarthritis and for cognitive function. Dr. Dolny was awesome to work with and the webinars were some of our best attended. They certainly set a high standard that was difficult to match by others." – Kyle Vowler

"When I was in the presence of Dennis I was always amazed how brilliant he truly was, but never made me feel stupid. After talking and laughing through a conversation with Dennis I always felt I walked away with knowledge that I had to spread to my friends and customers of HydroWorx. He was a true believer of HydroWorx! Dr. Dolny was a key part of helping me develop into a better resource for those customer that wanted to understand the science behind what our products are capable of. Doc, you will truly be missed, you had one hell of an impact on the HydroWorx family." – Matthew Foss

"A Dr Dolny story that I can recall is when I went for what I thought was a 45 minute meeting and it turned into a 4 hour tour of the University and basically me seeing every classroom on campus and in turn I had to cancel all my meetings for the day…But, it showed the level of pride he had in Utah State and his profession!" – Colin Donlevy

"I was always appreciative of him traveling and presenting with me over the years. One of my favorite memories is never laughing harder than I did with him one morning at Dunkin' Donuts in Boston." – Rob Miller
See some of Dr. Dolny's research videos below: