HydroWorx Bubble Busters: MUSCLE LOSS With Age? No Way!
It's time for another HydroWorx Bubble Busters installment! These posts use science to break through the commonly-held falsehoods related to using water for performance, rehabilitation and exercise. Today, we're investigating the ability for those over the age of 55 to increase muscle strength.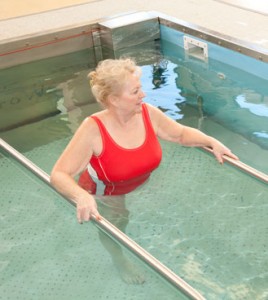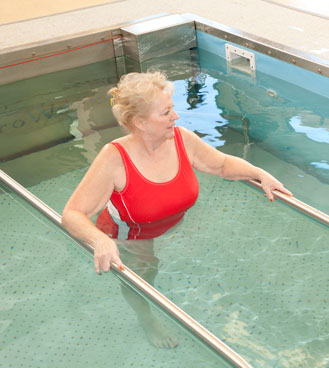 One of the biggest myths that we've all heard is that as seniors age, it's impossible to continuously gain muscle and strength. This myth may lead aging adults to limit themselves, which is unfortunate. Some of the most amazing athletes we've met are those who are eligible for AARP membership.
This misconception has been debunked, especially when considering the cases of GeriAthletes (those who are still competing in the sports they love well into their 60s, 70s, 80s and beyond.) Mike Studer, PT, MHS, NCS, CEEAA, CWT, CSST, President and Co-Owner of Northwest Rehabilitation Associates, recently presented the webinar, "GeriAthletics: Training Competitive Athletes Over 65 with High Intensity Underwater", which was devoted entirely to this topic and helped to provide insights into debunking this myth.
Evidence based research on aging from such well-regarded organizations as the American College of Sports Medicine shows that although there are some factors that do have to be considered when building strength and gaining muscle during the senior years, both young and old populations have the same general responses to:
Recruitment and motor learning
Synchronization and motor control
Fiber hypertrophy and increased muscle mass
So what's the biggest difference for the geriathlete who wants to build muscle? It all boils down to working with the realities of aging. The aging process naturally creates an environment where the body tends to decrease muscle fiber size, decrease muscle mass and decrease bone mineral density. Our bodies respond uniquely at the cardiovascular, tendon and muscular levels. Additionally, we have a reduced capacity to clear protein, varied (and perhaps unpredictable) hormone levels, lowered capacity to repair and lessened sleep quality.
But all is not lost! To combat these factors, geriathletes participating in activities such as long-distance running, cycling, golfing and swimming are choosing to complement their land-based training regimens with regular warm water therapy exercising.
In a therapy pool with an underwater treadmill, geriathletes can focus on injury prevention, optimal performance training and maximized recovery time, all leading to plenty of benefits, including the increase of muscle mass. For instance, the hydrostatic force of the water naturally causes a positive return of the blood back to the heart, which is something that tends to diminish as the years tick by. Thus, a workout in the water mitigates some of these losses. This then promotes greater exchange and efficiency, enabling the body to load red blood cells back through the blood stream. The upshot? Muscles are supplied and stimulated, rather than quickly depleted.
Even senior athletes who have had physical problems and surgeries can gain muscle mass thanks to endurance and high intensity interval training in the pool. Effective exercises include bounding, jogging, jumping, shock drills, box sets and running against the resistance forces of high-powered jets. The buoyancy of the water helps offset impact absorption, giving a boost to the geriathlete without risk of physical harm.
We'd all love to outrun Father Time, and with the help of muscle-increasing protocols in underwater treadmill pools, we can! To learn more about increasing your VO2 max, maximum heart rate and recovery times despite the age on your driver's license, watch, "GeriAthletics: Training Competitive Athletes Over 65 with High Intensity Underwater", on-demand today.