HydroWorx to Attend Arab Health for Second Straight Year
HydroWorx is proud to announce our return to the Pennsylvania Pavilion at Arab Health 2014 in Dubai, UAE this year.
About Arab Health:
The Kingdom of Dubai has grown to be a hotbed of economic, industrial and technological activity; as the center of Middle Eastern business activity, it's perfectly suited to host the Arab Health Show from January 27-30, 2014.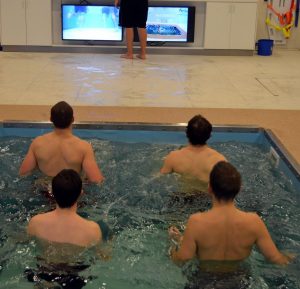 The Arab Health Exhibition & Congress is, by far, the largest healthcare exhibition in the Middle East and Asia, and the second largest in the world. Arab Health is viewed as a must-attend global event in the healthcare center. The Arab Health Congress grew by 12% in 2013 and saw an increase of more than 850 delegates over 2012, each taking part in one of 19 conferences held during the four-day show. Due to the increased interest in Arab Health, this year the conference will undergo an expansion of the exhibition with a new hall, which will include 450 new exhibitors.

What to expect for Arab Health 2014
More than 3,400 exhibitors from 64 countries.
With visitors from 153 different countries and almost 77% from The GCC and Middle East, Arab Health's international appeal continues to grow year on year.
37 country pavilions including new pavilions from Japan, Hong Kong, Argentina and Singapore.
90% of visitors selecting contracts for future business.
Learn more about the conference today!
HydroWorx can be found at the State of PA Trade Booth, Booth 2A 19 next week. Our HydroWorx representative will be available all four days of the show to discuss the many benefits of aquatic therapy and exercise.
We hope to meet you there!
Upcoming Free Webinar, Register Today!
Join Steve Kemp, MSc, BSc, Elite Football Physiotherapist & Physiotherapist to the Senior England Men's Team at Perform at St. George's Park, for the webinar "The Use of Hydrotherapy for Early Progression of Rehabilitation Protocols." This webinar will take place on February 13, 2014 from 11:00am to 12:00pm EST. The webinar will give an overview of the criterion based rehabilitation philosophies used at Perform at St George's Park, and how hydrotherapy is used in the early phases of rehabilitation to challenge the athletes to stimulate improvements in neuromuscular control and progressively load.  It will include videos of examples of these progressions and discuss how these link directly to some of the 'out of water' progressions in the rehabilitation.