HydroWorx at NATA Meeting June 26-28th
HydroWorx will be present at this years', National Athletic Trainer's Association Annual Meeting and Clinical Symposia held in St. Louis, Missouri. Not only will we be attending the 63rd annual meeting, HydroWorx will have a booth set up (Booth #915) with a number of things going on that you do not want to miss!
Jump on In!
Our booth will have 4 X80 Portable Underwater Treadmills available for trial and testing. Additionally, the St. Louis Rams Cheerleaders will be at our booth to run in the pool alongside anyone who would like to test out the X80. That makes for a fantastic photo opportunity! Make sure you stop by the HydroWorx booth!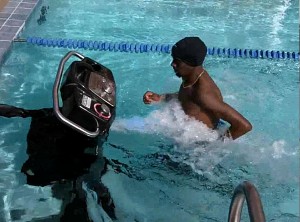 Messages to Warriors
HydroWorx, the Andrew's Institute, Athlete's Performance and the Eagle Fund have all joined together to create the first ever underwater marathon event held this September. This event will benefit wounded Special Forces soldiers. The Eagle Fund supports wounded warriors in their pursuit to return to active duty. The underwater marathon will be held on September 9, 2012 at Tröegs Brewery, Hershey, PA. For more information about the underwater marathon visit www.underwatermarathon.com
Our booth at the NATA meeting June 26-28th will have the pool that will be used for the underwater marathon in September. Individuals will have the opportunity to write a personalized message to our nation's warriors on a wall of this pool.
Boot Camp with Murphy Grant!
In addition to the above, Murphy Grant will be running two-20 minute bootcamp sessions on the X80s that you can participate in! These sessions will be from 12:30-1:30 on Wednesday the 27th and 11:30am-12:30pm on Thursday the 28th. To sign up for this incredible workout, please email Morgan Hollinger at mhollinger@www.hydroworx.com!
Watch and see what the X80 Boot Camp is all about!
Now is your chance to try out the underwater treadmill, meet a St. Louis Rams cheerleader, write a message to our country's soldiers and participate in a boot camp workout all at once! You don't want to miss out!
If you have any questions about HydroWorx, the Underwater Marathon or the NATA Annual Meeting in St. Louis do not hesitate to reach out to us!