Hydrotherapy in Action for Moon Physical Therapy in Hawaii
The following blog post has been summarized from the recent article, "The Latest in Hydrotherapy,"  by Rasa Fournier on page 34 of Midweek Newspaper published in Hawaii, August 31, 2016.
Julie Moon, licensed physical therapist and owner of Moon Physical Therapy in Honolulu, Hawaii, was recently interviewed about how she is using the HydroWorx 350 to maximize her patients' exercise training, rehabilitation and sports performance. The HydroWorx 350 is the new benchmark for construction-free unweighting devices and offers more interior space and jet power than the standard HydroWorx 300, yet still fits through a standard 36″ doorway.
Moon Physical Therapy is leading the way in offering their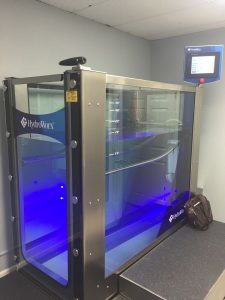 patients the best technology with a qualified staff that has years of services helping people in Hawaii. Moon, whose mother is a registered nurse, first became interested in physical therapy when she accompanied her mother on one of her cases at a local hospital. Moon, who had just finished high school, saw a PT working with a toddler who was paralyzed on her right side.  She remembers thinking,
"Wow, this could be for me because it didn't look like like work, it looked like they were having fun with these exercise balls and toys/equipment, yet the PT was really making a difference in this little girl's life."
At Moon Physical Therapy, services provided are outpatient land-based physical therapy and aquatic therapy. When asked the benefits of using the HydroWorx 350, Moon said,
"We are able to quickly add or remove the water depth ranging from 1 to 56 inches with the touch of a button. This is extremely useful for those patients who are in pain (the depth would be increased) or to challenge a patient and prepare them for increased weight bearing on land (decreasing depth)."
Moon is proud to be the first health care facility in the United States to install the HydroWorx 350. She is able to challenge patients or athletes with multi-directional movements (backpedaling, side-shuffling, carioca) and upper extremity workouts. She also uses the hydrotherapy jet, which provides additional resistance during strength and endurance training. The therapeutic massage hose is used for deep-tissue massage to decrease muscle soreness or break up scar tissue and an underwater camera, which allows them to monitor patient's mechanics and provide immediate feedback.
A specialty Moon Physical Therapy provides is cardio-pulmonary rehabilitation.  Moon said,
"We are able to treat these patients with heart or lung issues on land or in the water.  Your heart beats 10-15 beats per minute slower when you are in the water and so, if you have a cardiac issue, you will not stress your heart, although you are able to get a good workout because of the resistance the water provides."
Moon Physical Therapists treat one patient per hour in their HydroWorx 350, allowing each patient one-on-one private therapy sessions. When asked about payment, Moon said that the sessions are typically by physician referral and covered by insurance, but they also provide cash-pay services.
To learn more ways to gain referrals for your PT clinic, download our tip sheet, "4 Effective Ways to Generate Referrals for Your Physical Therapy Practice."
Request a Free Info Kit     View Our Products     Find a Pool Near You