In Honor of Moms Everywhere
Moms are truly incredible. They juggle a million things at one time, they are the ultimate multi-taskers, they hold many different 'job titles', and they are extremely caring and compassionate people.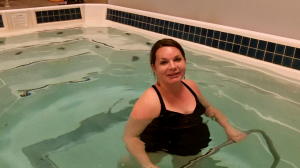 Today we want to recognize all mothers. You deserve more than just one day of recognition and more than one day of celebration but nevertheless, Cheers to Moms.
Moms make sacrifices beyond human measure and take care of all of their children's bumps and bruises. However, sometimes moms sometimes get bumps and bruises of their own.
Here's a collection of stories of mothers who have overcome obstacles and challenges through the use of aquatic therapy:
Lois Jordan suffered a stroke that left her almost completely paralyzed. Before she started aquatic therapy, she was told she would never walk again and her hopes of improving her mobility were all but dashed. Today, after only 5 months of  aquatic therapy with Barb Cacia, Wellness Director at Pieters Family Life Center, in their HydroWorx pool, Lois has made vast improvements! Read more about her story.
Kim, a single mom of three, does all the things that any mom of three needs to do. But Kim does all of this while dealing with the effects of Multiple Sclerosis (MS). Throughout her aquatic therapy sessions she has been able to increase core and hip strength and maintain higher levels of activity to keep up with her daughters. Find out more about Kim.
Another mother of three, Bridget Hamilton, used to do everything in her power to keep up with her busy day. But at the age of 30 Bridget, who was 10 weeks pregnant with her 4th child, was diagnosed with Guillain Barre Syndrome which completely paralyzed her and landed her in the hospital for a few months. Bridget is continuing to make great strides with aquatic therapy at Stonehill Franciscan Services to this day. Read more.
For expecting mothers, exercising in a warm water environment has many benefits, especially when your feet start swelling, back start hurting, or breathing becomes difficult. Learn more about exercising in water for expecting mothers.
Lastly, is another story about a mom who battles the severe effects of a stroke. With the use of warm water therapy her pain has decreased while her strength and ability to perform daily tasks has improved. Read more.
Happy Mother's Day!
We hope you will share some stories about extraordinary mothers with us on Facebook or Twitter (@hydroworx)!
Page Updated on: June 16, 2020