In Honor of Hard-Working Dads!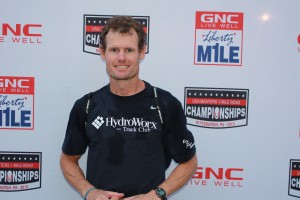 We know that dads work hard for their families! Sometimes that means midnight snuggles with little ones, long hours at the office to provide for their families, or working around the house/yard to improve living space. And sometimes it means fighting against health issues and odds to be able to get back to the things and people they love!
Today, we want to recognize fathers everywhere for their perseverance, determination and love! We appreciate you all year, but on this Father's Day we celebrate those that have overcome difficult obstacles to get back to being "Dad!"
1. Chuck Ciraolo suffered a stroke four and a half years ago.  His family was told it was so severe  that he should not have survived and would likely be in a vegetative state the rest of his life.  After a lot of hard work and some aquatic therapy in a HydroWorx 2000 Series pool at Pieters Family Life Center, not only is Chuck talking about his recent golf adventure, he has been mowing his lawn and was able to walk his daughter down the aisle for her wedding. Read Chuck's full story here>>
2. Dr. Dale Hull was playing with his sons on his backyard trampoline when a bad landing resulted in Hull being paralyzed from the neck down. Through his incredible perseverance and hard work with physical therapist Jan Black, he has since gone on to be an Olympic Torch Bearer and, along with Black, create an outpatient spinal-cord and neurology recovery center called Neuroworx. Now they help others, using state of the art rehabilitation equipment, such as HydroWorx. Read his story here>>
3. Ken, a business man who works long hours and has a family, decided he needed to lose some weight. But with a busy schedule and family to take care of, he struggled to find something he could do that wouldn't take a lot of time. Luckily, he found a program at ACCUA that provided an aquatic solution that worked into his lifestyle: half hour sessions at the end of the work day.  Thanks to his determination he was able to experience great results and even enjoy some time with his daughter during his sessions. Learn more about  Ken's program here>>
4. Nick Berra juggles life as a working dad, while also pursuing his goals. A (well-decorated) Master's Runner, Berra uses HydroWorx underwater treadmill running as an integral part of his training program. By doing so, he is able to accumulate more training miles and continually improve his performances.  Read about Nick's recent successes here>>
Happy Father's Day!
We hope you will share some stories about extraordinary fathers with us in the comments below or on Facebook or Twitter (@hydroworx)!