Help Patients Regain Independence with Aquatic Therapy
With the Fourth of July around the corner, we will soon be celebrating our country's independence. For many aging adults and those in physical therapy for a variety of conditions, maintaining and regaining independence is a primary concern.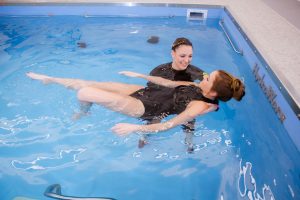 With that in mind, aquatic therapy can be a great alternative to traditional physical therapy. Often, exercises can be completed easier in water than when performed on land. The warm water temperature relaxes the joints and muscles and also promotes stretching. The water's buoyancy can remove up to 100% of a person's weight and stress on joints and bones which makes movement easier and less painful.
Download the Fall Reduction tip sheet.
In a clinical review entitled, "Aquatic Therapy – Scientific Foundations and Clinical Rehabilitation Applications," by Bruce E. Becker, MD, MS, notes the percentage of a body's weight-bearing at different water depths. This is important to know when patients have weight-bearing restrictions. The ability to raise and lower the water depth offers greater benefits than a standard static pool.
The buoyancy allows exercisers to practice body control in a safe environment where risk of falling is drastically reduced. It can also be utilized to make exercises more difficult by moving away from the surface of the water or less difficult by moving toward the surface.
When in the water, the body is naturally lifted which is extremely beneficial for those who cannot place their entire weight on an affected joint or body part. The deeper the person goes in the water, the less of their own body weight they have to support.
Offering aquatic therapy allows patients to perform exercises that may not be able to be performed on land and can help patients gain the strength necessary to get back to or maintain their independent lifestyle.
Download the Falls Reduction tipsheet here to learn how water workouts can reduce falls, improve falls and increase muscle strength.