Healthcare Excellence in Aquatics Award Submissions are Now Open!
HydroWorx is proud to announce that the Healthcare Excellence in Aquatics Award is now open for submissions. We held the first ever Excellence in Aquatics Award for Healthcare last year and had an amazing response. We had some remarkable submissions that were then narrowed down to four finalists. The winner was announced last year at the APTA's Combined Section's Meeting in Indianapolis, IN.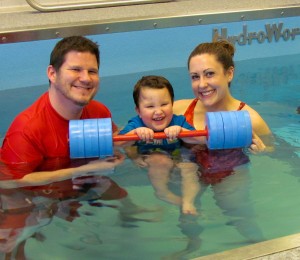 The recipient of the first ever Healthcare Excellence in Aquatics award was Pullman Regional Hospital for their innovative therapy program for a 3-year-old patient who suffered from a brain tumor. Therapists, Ambyr Henderson and Tim Williams combined their speech therapy and physical therapy efforts in their HydroWorx pool and the results were amazing!
About the Award:
This award was created to recognize clinicians who achieve exceptional rehabilitation results through the use of advanced water therapy.
Who doesn't love a truly inspiring story? It is our nature to be drawn to stories of individuals overcoming the odds, breaking through barriers and truly redefining what is possible. We have all been impacted, in one way or another, after hearing these remarkable stories. Behind these truly amazing rehabilitation stories are the clinicians and medical staff who also sacrificed to ensure these individuals would reach their goals.
The 2016 Healthcare Excellence in Aquatics Award will recognize clinicians who, despite all odds, garnered superior rehabilitation results through innovative and sometimes unconventional methods.
Clinicians can submit their exceptional case study until December 2, 2015 11:59pm EST.