Research Evaluates Health Benefits of Hydrotherapy (Infographic)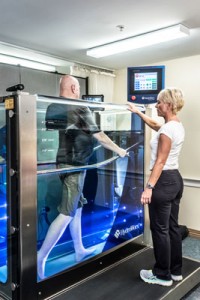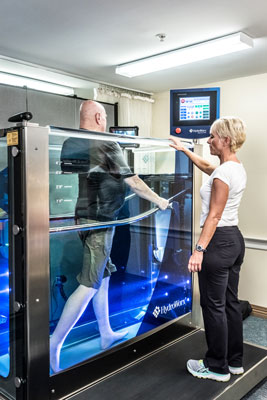 As individual age, the importance of staying active increases. However, many have found that exercising on land only increases or compounds the pain felt from pre-existing conditions such as arthritis, joint pain or chronic back pain. Research has proven that exercising in a warm water pool on an underwater treadmill can provide numerous benefits to the aging population who never thought exercising could be painless and fun!
The University of Wisconsin's Kinesiology Department developed and published the research study, "Health Benefits of Underwater Treadmill Exercise for Active Adults." The purpose of this study was to evaluate the effects of performing underwater treadmill exercise in active adults. The research team at Wisconsin hypothesized that the underwater treadmill would be advantageous for muscle and joint comfort, energy for activities of daily living (ADLs), sleep quality, and overall well-being for people who typically experience over-training with additional land-based exercise.
The participants for this five week study consisted of 14 adults, who were currently exercising five times per week. Each participant was required to perform forty minute workouts, two days per week on the HydroWorx underwater treadmill.
During these two workouts per week, both aerobic exercises and aquatic resistance training were performed.
Each participant took a survey regarding their quality of life, which assessed their ability to perform daily activities, flexibility, energy levels and sleep patterns.
The results of the research revealed that within the five week period, participants noticed they felt better, psychologically and physically. Specifically, 74% of the participants experienced a decrease in previous joint pain, while half of the participants improved their sleep quality. The group as a whole experienced an improvement of 20% to their flexibility average at the end of the time period. Overall, this research study demonstrated how beneficial hydrotherapy can be to middle-aged or older adults.
We have summarized the result of this research in this infographic below.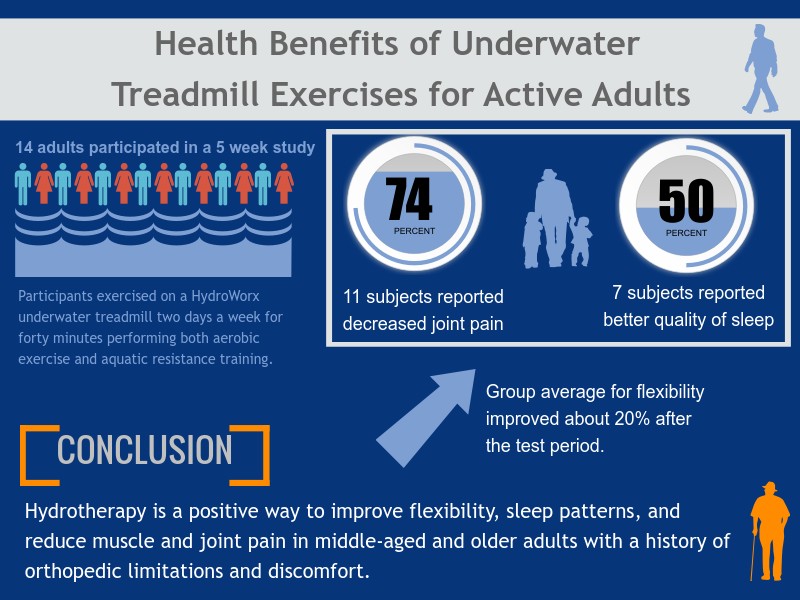 Share this Image On Your Site