Healing Waters Provide Hope for Multiple Patients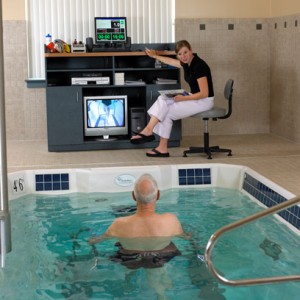 Adapted from an article titled "Healing Waters" in Mercy West's Customer Magazine from Fall 2012.
Three different people with three unique situations (along with many others) are finding hope in using water therapy at The Aquatic Therapy Center at Mercy West.  The Aquatic Therapy Center opened in November 2011 and their HydroWorx 500 Series Pool has had some major impact.
There are people out there who have a difficult time trying to exercise, trying to get their life turned back around. We wanted to offer something that would allow them to get back that quality of life." – Brian Howells, Director of Rehab Services at Mercy
Osteoarthritis: Linda Clement had battled osteoarthritis for quite some time. After knee replacements left her legs strong but her knees weak and still in pain, she sought out aquatic therapy to work on her knee pain.  While the buoyancy of the water reduces her pain and allows her to move more freely, therapists are also able to correct any movement that was out of place. With practice in the water, Linda could transfer those corrections to the land to improve her daily function. After 5 months of aquatic therapy using the underwater treadmill in the HydroWorx pool, she was able to significantly reduce her daily pain.
Lymphedema in Right Knee: A now retired football coach was dealing with swelling in his right knee and at that time was already a patient at Mercy West.  When the Aquatic Therapy Center opened, he was excited to see what the pool could do for him. "I can move a heck of a lot easier in water than on the ground." says Jim Davie. By using the underwater cameras, the therapist was able to correct any issues with gait patterns to improve his movements. The water also helped to accentuate the needed movement to help regain mobility.
Broken foot and pelvis: An active mom, who is a fitness nut, struggled when she was relegated to a walker and told to do no exercise.  The result of surgery on her foot and treatment for her pelvis, the only thing that wouldn't be too hard on Sally Shields' body while it healed was aquatic therapy. The hope and motivation  she  found from being able to do things in the pool was incredible. She was also able to improve balance, coordination, strength, physically becoming more fit and confidence in herself.
To learn more about how HydroWorx technology is changing rehabilitation, download the tipsheet "5 Ways Aquatic Therapy Impacts Rehabilitation">>