The Healing Power of Water
The following post has been summarized from the recent article, "Healing Through Aquatic Therapy," published on July 24, 2014 in Rehab Management.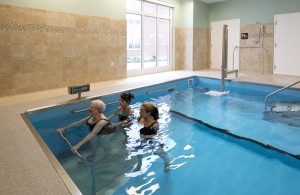 We all know that water is relaxing and therapeutic, but why? What is it about water that creates such a soothing environment for therapy and recovery? To start, the buoyancy of water aids in a patient's range of motion, while hydrostatic pressure reduces pain level and inflammation. Buoyancy is defined as the upward thrust acting in the opposite direction of gravity. The amount of pressure and weight-bearing on a patient's joints is decreased instantly due to the buoyancy of the water. For example, if a female is submerged in water at the level of C7, the xiphoid process, or the ASIS, she will only bear 8%, 28% or 47% respectively of her body weight. 
One patient at OrthoCarolina, utilized warm water therapy in a HydroWorx pool after her total knee replacement surgery. The patient noticed a significant difference in her gait when walking on the underwater treadmill compared to regular land-based walking.
"I didn't want to walk correctly out of the pool, because when I did, it would hurt. When I got on the treadmill in the pool, my therapist set it for about 25 minutes and I was able to walk in there without pain. The water makes you feel lighter. That doesn't mean it's easy, but it's definitely a unique feeling," Joan says.
Hydrostatic pressure is another property of water that aids in decreasing inflammation. The reason for this is because the pressure from the water on a patient is the same amount in all directions. Therefore, the cardiovascular system is assisted with reducing effusion and edema in the extremities.
Those are just a few properties of water that make it a suitable environment for healing and rehabilitation. Read the full article today>>
Upcoming Free Webinar: How to Make Aquatic Therapy Profitable
On August 12, 2014 from 1:00pm to 2:00pm EDT, Veronica Paquette, PT, Owner of Essex Aquatic & Rehab Center, will be presenting the free webinar, "How to Make Aquatic Therapy Profitable.". This webinar will help you compare possible monthly expenses and potential generated income. With the ever changing reimbursement rates, there will be ideas to help generate additional revenue to your business outside of physical therapy income. It will also review maintenance requirements for a small therapy pool.

Page Updated on: June 16, 2020