Happy National Runners Month!
There's a "month" for everything these days and we're not sure how legit "National Runner's Month" is, but we'll "run" with the theme anyway!
The following is a post written by, Mike Studer, PT, MHS, NCS, CEEAA, and President and co-owner of Northwest Rehabilitation Associates, in Oregon. Studer offers informative and timely information for all you runners and runners in training out there!
One of the athletes that we train at our clinic is a master's runner. He set a goal of running 13 half-marathons (13.1 miles) in 2013. Why not?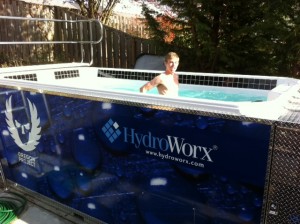 As you might imagine, this effort will take some special training to be able to actually race these events, not just tolerate them. Among the secrets (revealed in detail for this article) is the HydroWorx underwater treadmill, as a tool for training, recovery and tapering – used systematically throughout his season. Here are some of his personal accounts through 5 races – with some great "nuggets" of advice in each.
Race #1 – January 26, Cascade Half Marathon– 1:25:45.
Avoiding the cold and rain with a few 90 minute sessions in the comfortable warm water therapy pool, running on the underwater treadmill at 7-7.5 mph.
Track sessions rained out twice – replaced with underwater treadmill interval training:

3 minutes at 7.5 mph with resistance jets on at 60-70% of capacity. Recover for 2 minutes with jets off at 6.5 mph. (10 sets)
Lateral running: 30 second sets at 3.5 mph during the cool-down phase

Taper, with one 35 min 6.2-6.5 mph treadmill run for 3 days pre-race.
Race #2 – February 2, Roaring River Run – 1:23:09
With only one week between races, two separate runs underwater (February 3rd  – recovery on the day after Roaring River Run) and another three days pre-race. Recovery included running underwater at 6.2-6.5 mph without the resistance jets for 35 minutes and another recovery run at the same speed for 45 minutes.
Race #3 – February 9, Heartbreak Half Marathon– 1:29:51
Recovery 20 minutes, same day as the race, 5.5-6mph without the underwater resistance jets
One track workout in the pool, per above, adjusted to 5 minute sets at 7.5mph x 60-70% capacity with 2 min recovery
Two 90 minute pool runs at 6.5-7.2 mph without jet resistance
Taper week with one 35 minute pool run at 6.5 mph 2 days pre-race
 Race #4 – March 3, Lincoln City Half-Marathon – 1:25:42
Recovery run 60 minutes one day after
One track workout in the pool, 7.0-7.5 x 5 min intervals at 60-70% with 2 minute recoveries
Two additional 90 minute pool runs 6.5 mph
 Race #5 – April 14, Race for the Roses – 1:24:56
 10 mile tempo run (land), followed by a 20 minute run in the HydroWorx pool
Land based tempo running x 4 miles at 9.3 mph; followed immediately with 35 minute pool run
As you can see, for the distance-runner, there are at least four different approaches in which one can use the underwater treadmill:
Recovery running
Taper running
High intensity intervals with low impact/breakdown
Multi-directional efforts (lateral and backwards running)
We will check-in with this runner later on in the year, as he approaches his goal of 13 half-marathons in 2013 (13 x 13.1 in 2013) to see how his use of the Hydroworx 500 Series pool is helping and enhancing his performance during the race.
Five Races Down and many more lined up! This demonstrates a great training and recovery program for competitive runners and those looking into getting in to racing. It requires hard work,  dedication, and commitment  but following a program similar to the one Mike Studer has detailed out, makes it seem achievable!  Who wants to begin training?
As Studer has pointed out, training underwater is a great way to increase miles without the risk of injury increased by running on land. On May 21st at 12:30pm EST, HydroWorx will be hosting a webinar titled, "Use of Aquatics for Improving Linear Speed Mechanics," presented by specialists from Michael Johnson Performance!
Attendees will learn:
General concepts of linear speed training
Use of aquatic technology as a training modality
How to improve elements of speed in athletes
Register online today, you won't want to miss this one!