Growing Trend: Universities and Senior Living Developments Tying the Knot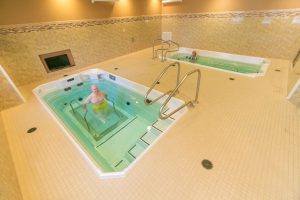 Good marriages begin with patience, communication, collaboration and common goals. Those that are fully aligned on their path of progression, discussing opportunities and obstacles as they arise, stand the greatest chance to not only survive, but thrive.
The same formula applies to the business world; indeed many senior living operators have found it advantageous to partner with perhaps unlikely companions: universities.
Here's why:
Unique Challenges
Unique challenges face each senior living director of rehabilitation, administrator and stakeholder. Those challenges include staffing shortages, occupancy uncertainties and resident programming. Simultaneously, universities see a skyrocketing demand for healthcare service professionals and are challenged to provide robust training for them in order to produce job-ready graduates. An answer to both parties' issues may lie in partnership.
A Growing Trend
Senior Housing News recently created a white paper asserting that universities and senior care facilities can greatly benefit each other
This accompanying article takes a look at university/senior living partnerships and stressed that forming strong ties with a university is "one of the smartest moves a senior living provider can make."
We have seen this even among our clients; Clear Choice Health Care is joining this school of thought, developing a skilled nursing facility a stone's throw from Jacksonville University (JU).
Unity in Jacksonville, Florida
Greg Nelson, Jacksonville University alumnus and long-time senior living developer, purchased 64 acres on the St. Johns River, directly adjacent to the school. The new Dolphin Pointe is a collaborative effort between Mr. Nelson, Clear Choice Health Care, and JU's School of Applied Health Sciences. The facility will be integrated into students' coursework, volunteer opportunities and hospitality training.
Dr. Christine Sapienza, Ph.D, CCC-SLP, Dean of Brooks Rehabilitation College of Healthcare Sciences at JU believes the university's partnership with Mr. Nelson and Clear Choice Health Care has all the makings of an ultra-successful collaboration.
"As demand for healthcare services professions such as nurses and nurse practitioners has skyrocketed, higher education has been challenged to provide the deepest, most robust training possible, so that students are job-ready immediately upon graduation," stated Sapienza. "This is a key component to our answer to that challenge."
See the article about Dolphin Pointe and JU's partnership in University Business Magazine here>>
Other Examples
Although these types of partnerships are gaining ground, they are not new.
The University of Florida partners with Oak Hammock, a few miles from its main campus. https://www.pbs.org/newshour/health/why-boomers-are-retiring-to-college
Lasell College in Boston, Massachusetts "sponsors" Lasell Village. https://www.lasellvillage.org/.
University of Central Florida has plans to "bridge the gap" with seniors as part of a 20-year project. https://watercrestseniorliving.com/wp-content/uploads/2018/06/nona-ucf-bridging-the-gap.pdf
With the common goal of serving our nation's seniors with the utmost diligence and care, senior living providers' evolving partnership with academia will produce what any good marriage does: trust, loyalty and most importantly, "patients."
Learn more about why water works for Senior Living communities>>