Groin Injury Case Study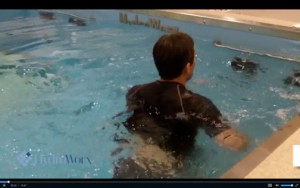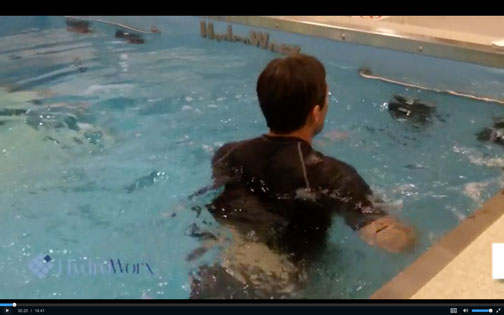 Groin injuries range in type and severity, often in the form of a strain or pull. In this case study, the athlete initially noticed groin pain during cutting drills while attending The Ohio State University football camp. The pain continued and eventually became so severe that he had limited ability to practice or play. After multiple doctor visits and an MRI, the athlete was diagnosed with osteitis pubis. Osteitis pubis is an inflammation of the pubis symphysis and surrounding muscle insertions. Routine physical therapy often fails and the injury is known to linger and sometimes return. Since this athlete was striving for a Division I scholarship, it was important that the condition was treated immediately with positive results.
He went to the Cleveland Clinic in Avon, OH under the care of Aquatic Therapist Todd Lewarchick, PT, DPT, FAAOMPT. This clinic has been open for approximately 4 years and continually sees an increase in its aquatic therapy referrals because of the great success they have had, particularly with athletes.
A typical progression this diagnosis would be to gradually expose a patient to lateral and rotational movements as tolerated. Lewarchick was aware of the difficulties of physical therapy with this injury and was determined to make sure the athlete was able to reach his goal of earning a scholarship. He wanted to be sure to address any mechanical dysfunction identified on land. He then chose to put the athlete in their HydroWorx 3500 Series pool, starting in the saggital plane, progressing to lateral plane and then progressing to rotational plane, focusing on function and core stabilization.
The athlete performed aquatic therapy twice a week for two weeks, followed by once a week for two weeks. He then progressed to two land therapy visits. His aquatic therapy protocols progressed each visit with sport-specific activities to strengthen the athlete. Each aquatic session was 60-75 minutes long and they were all similar, with appropriate progressions. The protocol used in the sessions were:
Warmup

15 minutes of jogging with jets
3 minutes of side stepping
sprints

Core and functional-based exercises

power step-ups
lateral step downs
clean and clean with press
push/pull
figure eights with Hydrotone bells
archer exercises
spin jumps
The athlete was thankful for the aquatic sessions because he was able to move just like on the football field, without pain. Therefore, he was able to maintain his function without losing steam on his training. On the 7th visit, he scored an 80 out of 80 on a functional lower extremity test and after the 8th visit, he was pain-free and cleared to play again.
Thanks to his great aquatic and land physical therapy, the football player did receive a scholarship and is currently playing Division I football!
Watch the case history, protocols and progressions in the videos below:
To see more case studies like this, visit our video library on our website!
Page Updated on: April 24, 2020