Good Shepherd Penn Partners Elevates Patient Care
Penn Medicine in Philadelphia, PA created a brand new 13 story, state-of-the-art facility, called University City, to fulfill many unmet needs. The goal of this facility is to provide many services to a variety of patients, and according to a recent article, it does just that. This new facility has over 90 providers that are offering a large variety of services on-site as well as 100 exam rooms, a 29,000 square foot therapy and fitness center and even a pharmacy.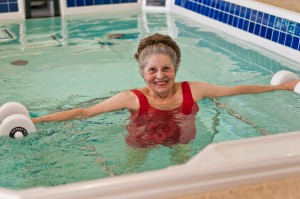 Gina Burns, project manager for Penn Therapy & Fitness, Penn Medicine's outpatient therapy provider, shares that they had been discussing this project for over two years. The challenge of bringing a large variety of therapeutic services under one roof was one that could not be overcome in a few short days. This was a project that took a lot of planning, collaboration and time.
Penn Therapy & Fitness University City, owned and managed by Good Shepherd Penn Partners, was one of the first tenants of the new building and opened for business on August 4, 2014. Good Shepherd Penn Partners operates 12 other outpatient therapy centers in the area, but this is the first facility offering aquatic therapy. 
"Offering the pool on-site is part of our integrated approach, designed to elevate patient experience. The HydroWorx 500 Series pool with resistance technology is really a big step forward in aquatic therapy. Its unique design allows our clinicians and patients to enjoy the state-of-the-art underwater treadmill within a relatively small area," shares Gina Burns.
Physical therapist, Elsa Amaral, shares in the excitement of having access to technology such as the HydroWorx aquatic therapy pool with an underwater treadmill. Having this type of equipment at their fingertips allows for the clinicians to treat a wider variety of patients, ultimately enhancing more individuals' quality of life. People are able to relax in a warm water therapy pool, making it easier to move and less painful to perform exercises. The buoyancy of the water allows patients recovering from surgery or arthritic conditions to be able to move, build strength and regain muscle while bearing less weight on the joint compared to on land.  
This new addition to their fitness and therapy facility has allowed for more consistent aquatic therapy service. Prior to having this therapy pool within their facility's doors, they had limited options and sometimes had to send patients to pools outside of their clinics. Now they are able to provide warm-water therapy five days a week to a wide variety of patients. 
Gina Burns puts it this way, "With two months under our belt, we're just seeing the tip of the iceberg concerning our ability to improve care in our community with this pool!"
Read the full press release today>>
Upcoming Free Webinar: Reduce the Risk of Falls with Aquatics
On November 5, 2014 from 1:00-2:00pm EST, join Jackie Halbin, Living Well Manager at Lakeview Village in Lenexa, Kansas, for this webinar on enhancing fall prevention programs by using aquatics.
This interactive presentation will provide information on helping people develop lower body strength and agility while improving their balance and awareness of center of gravity which enables them to stay independent longer. In addition to techniques to do so, Halbin will discuss how aquatic training improves scores on assessments conducted on land and which techniques create a sense of camaraderie among participants to improve attendance and retention rate.