Giants Overcome Injuries When it Counts
Some reports consider the New York Giants the underdogs for Super Bowl XLVI.  As they find themselves taking the field on football's biggest stage against the New En
gland Patriots for the second time since 2008, we're hoping they make a splash!
In order to play in Indianapolis this week, the Giants have overcome many obstacles, including injuries to key players.  Despite a long list of injuries that included some critical players on both sides of the ball, New York had a strong start to the regular season.
Then, unfortunately, they were plagued with four straight losses and injuries to not one, but two wide receivers.  Getting healthy at the right time, the Giants were able to secure an upset over the Cowboys and their spot in the playoffs– and a few weeks later, the Super Bowl.  When the stakes are this high, athletes, coaches and the sports medicine staff of any team are looking for the fastest and safest way to get their athletes on the field for the big game.
>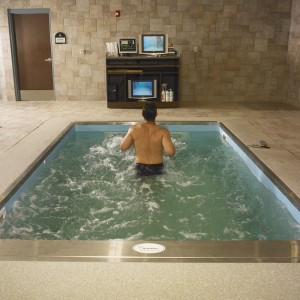 Aquatic therapy pools have become an industry staple for this reason.  For an injured player, walking or running on the underwater treadmill is virtually pain free.  Being submerged in water  reduces an athlete's body weight, easing the pressure on joints and allowing them to move freely.  It also allows them to begin rehab much sooner than a land-only program.  In addition, the hydrostatic pressure of water naturally decreases inflammation and increases circulation adding extra healing benefits to rehabilitation.
Equipped with a HydroWorx 2000 Series, ThermalPlunge and PolarPlunge pool we know that the sports medicine staff for the Giants believe in the power of water and just might consider it their competitive advantage over the Patriots on Sunday.  For more information on how the Giants and other pro teams are utilizing HydroWorx to keep players healthy and on the field visit our Video Library.