Get an Inside Look at Using Hydrotherapy in a Competitive Marketplace
Many physical therapy clinics gain a huge advantage when they introduce hydrotherapy with advanced equipment in their area. This gives them a competitive advantage, allowing them to carve out a niche market before other entities can set up their own aquatics options. What happens, though, when you're faced with a marketplace that's already offering aquatic therapy? How do you position your business for success?
Tony Pazzaglia, PT, DPT, OCS, the CEO of Terrapin Physical Therapy, Inc. and Ripple Physical Therapy, understands this conundrum all-too-well. He and his team have had to set themselves apart by creatively delivering aquatic therapy outcomes that are beneficial to patients and help gain referrals. From the moment Pazzaglia opened his doors, he was sure that water was going to be the future of physical therapy. Now, he has shared his insider tips with us during a webinar first offered in early December 2016 and now available on-demand, "Aquatic Applications for Orthopedic Physical Therapy."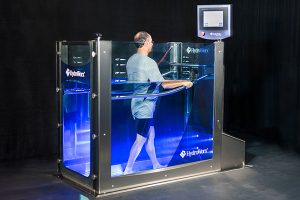 As he notes, it's an exciting time to be involved in rehabilitation, thanks to the many tools available to clinics. Yet he knows that in some areas of the country, clients have a multitude of options when it comes to choosing a provider. Pazzaglia's companies are located in the Monterey region of California, and he faces fierce competition from approximately 30 other physical therapy practices within driving distance. This has left him with a burning question: How can he differentiate his orthopedic physical and aquatic therapy services in a competitive environment with declining third party payments?
Fortunately, Pazzaglia has been able to uncover the answer to this problem. Thanks to his purchase of two HydroWorx products, not only does he no longer have to use outdoor swimming pools for aquatic therapy, but he's now treating about a dozen patients a day and enjoying a rate of patient cancellation that hovers at 6%. With a corporate motto of "Create Happiness Through Health", he and his coworkers continue to strive to overcome challenges.
If you are in a similar position or are simply curious about aquatics in action, watch "Aquatic Applications for Orthopedic Physical Therapy" on demand from the HydroWorx library. It is well worth an hour of your time. By listening to Pazzaglia and hearing his processes, you'll learn valuable insider details, tips and answers to questions such as:
How can you have an aquatic therapy modality if you are leasing a space and can't afford or logistically conduct construction?
How can you expand your business without weakening your brand and confusing clients?
How can you use education on the properties of water to your advantage as a physical therapy clinic?
What patient populations benefit the most from hydrotherapy? Knee patients? Hip patients? Ankle/foot patients? Others?
What advantage does a video monitoring system offer to patients and clinicians?
Why does water-based exercise work well for overweight/obese patients, especially those with knee osteoarthritis?
Pazzaglia adds to his on-demand webinar by including illustrative videos that give a better understanding of his points. At the tail end of the event, he has a robust give-and-take Q&A session with his live audience members.
Obtain instant and free access to "Aquatic Applications for Orthopedic Physical Therapy.">>