Gearing up for the London Games with TV interview
What an exciting day we had in the HydroWorx office yesterday (6/20) in Middletown, PA.
We had WGAL's 'News 8 Today' co-anchor, Lori Burkholder here interviewing HydroWorx's CEO, Anson Flake, as well as a local up-and-coming track star.
Burkholder, excitedly discussed with Anson Flake about HydroWorx's role in the Olympics. The underwater treadmill was featured in the lobby of our Middletown office in the 'fish tank.'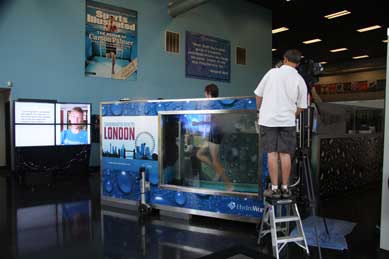 Olympic hopefuls in training, including Mo Farah and Galen Rupp, utilize HydroWorx's underwater treadmill in their training regime. Both athletes, coached by Alberto Salazar rely heavily on the HydroWorx underwater treadmill for post-workout recovery, rehabilitation, and variety with their workouts.  These two Oregon Project runners are rapidly striving for their shot at an Olympic medal as we speak.
This Friday afternoon, 6/22, Galen Rupp will be running in the Olympic trials at Hayward Field, in Eugene, OR.  Rupp will be running in the 10,000-meter final with the hopes of returning next week for the 5,000 semi-final. According to the article, "U.S. Olympic trials: Galen Rupp's steady climb continues, with plenty of tweaks along the way, no U.S. man has medaled at the Olympic Games in the 5,000 or 10,000m since 1964. That, hopefully, is soon to change.
Not only did the WGAL news anchor discuss Olympics with Flake, she spoke to a passionate sophomore runner from Lower Dauphin High School, Jeff. Jeff and his team, will be using the Underwater Treadmill for his training this fall. He had the opportunity to jump in the HydroWorx 'Fishtank' to try out the underwater treadmill, the same machine that Mo Farah and Galen Rupp are using to train for the Olympics. Jeff was running like a pro, just like the Olympians. He was amazed by the technology and commented to Lori Burkholder about how similar it is to running on land but with less impact on your body! His enthusiasm about the experience was fun to watch and we are excited to see the impact it will have on his running success as well as his team's from LDHS.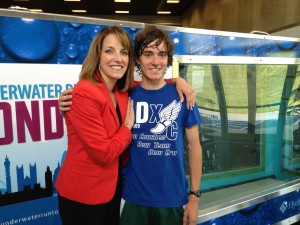 After the interview we took Lori on a tour the HydroWorx facility where we showed her one of the pools that will be used in the Underwater Marathon on September 9, 2012 at Troegs Brewery. (click here to learn about this event) This pool holds 4 underwater treadmills and it is also being shipped to St. Louis for the NATA Show the end of this month.
Be sure to follow along with updates on our Blog and Facebook pages, as well HydroWorx's Underwater Run to London site where all the latest news on Alberto Salazar, Galen Rupp and Mo Farah is posted. Good luck this Friday Galen!
Stay posted for more information about our WGAL interview and when it will air because you don't want to miss this! Also be sure to look for HydroWorx as WGAL begins to cover the Olympics!