Galen Rupp's Backyard Showpiece, a Two-Page Feature!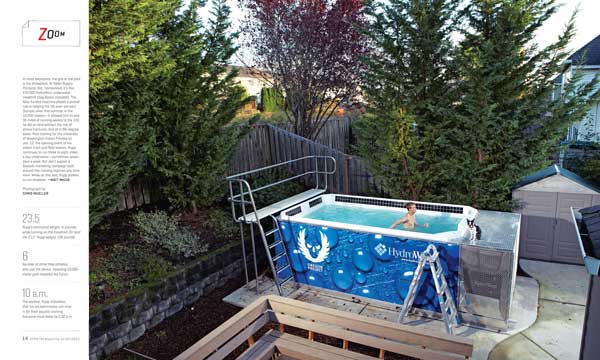 If you open up this month's issue of ESPN The Magazine, you will find this stunning shot of Galen Rupp running in his HydroWorx pool on page 14 and 15. Rupp, silver medalist, is back on the track and in the pool training harder than ever for his upcoming spring track schedule as well as the 2016 summer Olympic games.
Rupp's pool, the grand showpiece in his backyard, seems to be the topic of conversation and top priority among his teammates. According to the article in ESPN, Rupp opens his pool for his teammates to come and train, however 10 am is the earliest he will allow visitors and they all must leave by 5:30 pm. Seems pretty fair to me!
The 26 year-old runner uses the underwater treadmill as part of his intense training regimen, created by his Coach, Alberto Salazar. Preparing for the London games, it allowed him to add 30 miles of running weekly to the 100 he did on land without the risk of injury or stress-fractures.
January 12 marks the beginning of Rupp's competitive events for this spring, where he will be running in the University of Washington Indoor Preview. According to the article, Rupp has been running three to eight miles underwater per week to prepare for his first event. Running underwater for Rupp and all athletes, allows for a full recovery while still getting a great workout in, especially when the 138 pound athlete only weighs 23.5 pounds in the water!
Best of luck to Rupp in his first race on the 12th and we know, as well as he does, that this is just the beginning! Coming off the Olympics with a new form of motivation and dedication to training and his success will certainly set him apart!
Are you interested in learning more about how the underwater treadmill that Rupp uses can make an impact in your training and conditioning program? The Underwater Treadmill Running book provides you with all the information you will need!
Underwater Treadmill Running- FREE DOWNLOAD!
The Low Impact, Pain-Free, Calorie- Burning Fitness Advantage
By: Alberto Salazar and Dr. Dennis Dolny
The HydroWorx underwater treadmill and resistance jets are effective for rehabilitation, but what about performance training? Let authors Alberto Salazar and Dr. Dennis Dolny show you why water workouts work wonders for conditioning.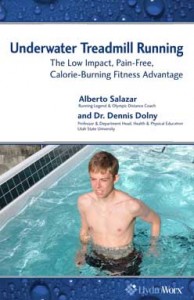 "One of the things that I asked my scientific advisors was 'what are the cross training modalities that are best for distance running?' and they told me that the one single best cross-training modality out there for my distance runners was the HydroWorx underwater treadmill."- Alberto Salazar, Olympic Coach
Read Underwater Treadmill Running to learn more about the advantages of underwater treadmill running for training and conditioning. Download the book now>>



Why HydroWorx Is the Professional Athlete's Choice
With ringing endorsements from world-class athletes like Galen Rupp,  along with fellow Olympians Michael Johnson, Mo Farah and Dathan Ritzenhein, it's no surprise that you'll also find HydroWorx pools in the locker rooms and training centers of professional sports teams all around the world. Top-tier athletes rely on HydroWorx pools for both general fitness and fast and safe recovery from surgery. Our clients include the Dallas Mavericks, the Indiana Pacers, the Philadelphia Phillies, the Detroit Lions and the Toronto Maple Leafs. We are also proud to support athletes at the high school and collegiate levels.
To find out more about HydroWorx fitness pools, contact our team today!