Gait Training Using Hydromassage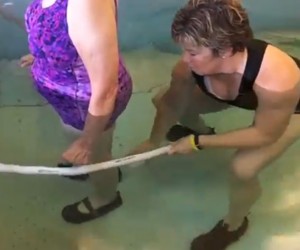 Gait training is the act of learning, relearning or correcting the way an individual walks. In the case of relearning how to walk, it is often accomplished through physical therapy on land in order to improve a patient's ability to stand and walk, help to prevent falls, strengthen muscles and joints, improve balance and posture, develop muscle memory and build endurance.
Improving one's gait and in turn increasing one's physical activity and movement has also been proven to reduce other illnesses, such as heart disease and osteoporosis.
The physical therapists at Lakeview Village in Lenexa, Kansas work to improve their patients' gait, mobility, confidence, and understanding through the use of the HydroWorx 1200 Series pool. Interestingly, they include the therapy jets and attachable massage hose to target tight, problem areas in patients' muscles. After a targeted massage on calf and gastroc muscles there is visible improvement in gait, range of motion, as well as an increase in comfort and reduced pain. Therapists use this noticeable difference to explain the importance of exercise and stretching protocols to patients.
Watch as one patient goes through the preliminary gait training process, and see the differences in her stride and heel strike after the hydromassage.
Why Water Worx for Senior Living and Senior Services
Warm water therapy offers an effective way to combat falls and can make an impact on an organization's bottom line. By adding revenue streams and increasing patients' length of stay in independent living, senior living communities can experience impressive results. Learn why warm water therapy is essential for aging patients' health and your community's success.