From Snowy First Impression to Vital Patient Tool
When Russ Chrischilles, physical therapy assistant at Buena Vista Regional Med Center in Storm Lake, Iowa, first laid eyes on his facility's new HydroWorx product it looked a little strange. The pool was sitting outside, covered in snow, just waiting to be installed during Buena Vista's renovation project to grow their physical therapy offerings. This may have made for an unusual first impression, but Chrischilles quickly found out just how valuable the equipment could be.
Chrischilles wasn't new to aquatic therapy. It was one of his specialties and passions. With a Recognition of Advanced Proficiency from the American Physical Therapy Association, and a degree from Blackhawk Community College, he had worked with clients in static pools before.
Despite Chrischilles' knowledge of and experience in hydrotherapy, Buena Vista spared no time involving the whole rehabilitation team in in-depth trainings. The HydroWorx offered expanded possibilities of aquatic therapy in a specialized pool with underwater treadmill and resistance jets.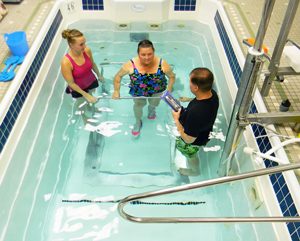 Chrischilles shared his love for water by teaching his teammates about the benefits of aquatic therapy. Beginning with the Department Director and a lead Physical Therapist who also had a great deal of aquatic therapy experience and put on an intensive two-day program for all the other physical therapists and occupational therapists. During this aquatic therapy onboarding period, the roughly 10 participants got comfortable with the new modality and brainstormed the types of patients they would refer and have in the pool. As Chrischilles remembers, "The Director had a master plan of how he would be using the pool and then trained everyone on this."
Today, the aquatic therapy program has had a positive effect for Buena Vista and its patients. The pool allows people with weight-bearing restrictions to get into rehab sooner. Those with lower back pain, knee injuries, ankle problems, arthritis and other ailments can progress faster than they might if they did land-based physical therapy alone. Through one-on-one therapy, patients are able to move freely in the water, making strides in a comfortable, warm environment.
One of the major advantages to having their pool is that it expands everyone's opportunities. "It just gives us a bigger offering for our patients," says Chrischilles, "and more choices for patients and for therapists. When traditional, land-based therapy isn't working, for whatever reason, we can say, 'Hey, let's get you in the pool!' That makes them feel better that we have all the tools to treat them."
Chrischilles' team's HydroWorx unit is set around 97 degrees year-round, quite a difference from the chilly way he initially saw it! Not only is it a warm beacon for individuals from around their Iowa community who need something more from physical and occupational therapy, but it's a competitive advantage that allows them to achieve their patients' goals.
Learn more about how to integrate aquatic therapy into a rural hospital to achieve quality outcomes here.>>