Free Webinar: Strategies for Treating Low Back Injuries with Aquatic Therapy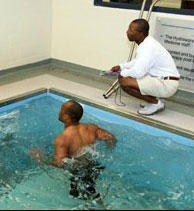 According to the American Orthopaedic Society for Sports Medicine (AOSSM), low back pain is a very common problem in industrialized countries, affecting over 70 percent of the working population and it is also common in sports such as football, soccer, golf, rowing and gymnastics. Injuries to the lower back can be the result of improper conditioning and warm-up, repetitive loading patterns, excessive sudden loads and twisting activities. Proper body mechanics and flexibility are essential for all activities.
Join us on March 19, 2015 from 1:00pm to 2:00pm EDT for the free webinar, "Strategies for Treating Low Back Injuries with Aquatic Therapy." Murphy Grant, MS, LAT, PES Assistant Athletic Director – Sports Medicine and Head Football Athletic Trainer at University of Kansas in Lawrence, KS will discuss the value of aquatic therapy for treating low back injuries such as Lumbar Sprain, Muscular Strains, Contusions, Sciatica, Herniated Disks, Spondylosis and Spondylolisthesis.
Strategies to develop rehabilitation programs and progressions using aquatic therapy as a medium will also be discussed. These strategies will help to safely and effectively rehabilitate patients or athletes by challenging them with stability, strengthening and power exercises.
Attendees of this webinar will learn:
The anatomy of the low back
Most common injuries to low back
The properties of water that make it ideal for treating low back injuries
Specific rehabilitation exercises for low back injuries
Learn more and register here>>