Free Webinar: Aquatics for Energy System Training & Metabolic Conditioning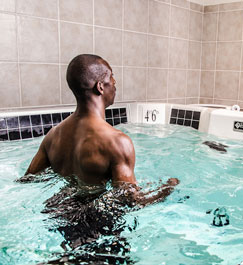 Stamina is one of the six limiting but modifiable factors dictating success or failure for almost every athlete, regardless of sport. Michael Johnson Performance (MJP) utilizes aquatics across the stamina spectrum for metabolic conditioning, both in healthy and physically compromised athletes of all ages and sports.
Join us on December 16, 2014 from 1:00pm to 2:00pm EST for the free webinar, "Aquatics for Energy System Training & Metabolic Conditioning." Lance Walker, Global Director of Performance for Michael Johnson Performance, will introduce the MJP 3-component stamina category and how it fits the overall MJP training system. The webinar will also offer minimal effective dosages for each component and specific training prescriptions using aquatics as the metabolic training modality.
Attendees will learn:
How stamina can impact the performance of healthy athletes and recovery of injured athletes
The qualities of the aquatic environment that make it ideal for improving stamina
How metabolic conditioning can be integrated into an overall training system
Specific protocols using aquatics for energy system training
Continuing education credit is available through the NATA BOC, for those that watch the live webinar in its entirety. 
Learn more and register here>>