Free Webcast: Aquatic Rehab Progression for Sports Related Foot and Ankle Injuries
Join us in person or online for our upcoming educational event, "Aquatic Rehab Progression for Sports Related Foot and Ankle Injuries." Our presenter, Jason McVeigh MS, PT SCS, ATC, LAT Director of Sports Medicine at the University of Tennessee, will be presenting live from the HydroWorx 1200 Series pool at the University of Tennessee on July 15th from 11:00am to 12:00pm EDT.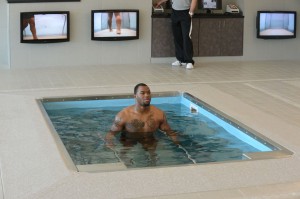 This webcast will provide treatment ideas using the benefits of hydrotherapy for common sports-related foot and ankle injuries such as 5th metatarsal fractures, Lisfranc injury, "turf-toe," ankle sprains and high ankle sprains. It will include a discussion of implementing HydroWorx equipment into a new facility. The demonstration will take place in a HydroWorx 1200 Series pool with video monitoring system where the presenter will utilize the underwater treadmill, aquatic jets, and varying depths of water to present practical exercises and protocols for foot and ankle injuries. McVeigh will also discuss the speeds, depth, exercises and progression for each of the following phases of rehabilitation.
Pre-weight bearing and partial weight bearing phase

Early phase rehab

Middle phase rehab

Advanced phase rehab
This 1 hour webcast will be broadcast live from the HydroWorx 1200 Series pool at University of Tennessee in Knoxville, TN. Live attendees will have the opportunity to see the HydroWorx 1200 Series pool as well as Thermal and PolarPlunge pools. Make sure you bring your bathing suit and towel!
If you are interested in attending in person, please contact Michele Reber today by email at mreber@www.hydroworx.com.
Jason McVeigh enters his ninth season as Director of Sports Medicine at Tennessee, and his 16th overall with the UT athletics department. McVeigh has been a member of the UT Sports Medicine staff since 1999, when he joined the Vols as the Director of Rehabilitation. Under his supervision, the UT Sports Medicine department has added several key features to assist in the care of UT student-athletes. These include addition of a Team Physician's Clinic, an on-site X-ray unit, baseline echocardiograms and concussion testing for all student-athletes, a revised substance abuse testing policy, an expanded state-of-the-art physical therapy clinic, as well as development of Team EXCEL, a multi-disciplined program aimed at addressing the complex behavioral health needs of the UT student-athlete. McVeigh graduated Summa Cum Laude from UT in 1996 with a B.S. degree in Biology and a minor in Biochemistry. He then went on to receive his Master's degree in Physical Therapy from Duke University in 1999. He is a certified athletic trainer and is also a board certified specialist in sports physical therapy. He is a member of both the American Physical Therapy Association and the National Athletic Trainers Association. McVeigh has spoken at several local and national sports medicine conferences on topics related to both physical therapy and athletic training.