Free Download: A Profile on Exceeding Expectations in a CCRC with Aquatic Therapy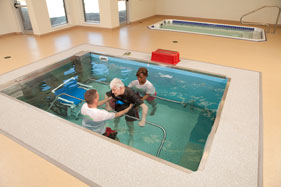 An aquatic therapy pool in a senior living community can have a significant impact on multiple facets of residents' well-being. It can not only be used for rehabilitation after injury or surgery, but it can also be used for wellness. Using an advanced aquatic therapy pool can be beneficial to your residents, your community and your bottom line.
One specific continuing care retirement community (CCRC), Stonehill Franciscan Services in Dubuque, Iowa, has seen tremendous success by combining innovative strategies with unique marketing and state of the art equipment. Their unique methods have created a pool and wellness center that are consistently full while also generating future occupancy, physical therapy referrals and impressive revenue.
According to Rachel McDermott, former Director of Rehabilitation at Stonehill Franciscan Services,
"We use the pool for high level balance, strokes, spinal cord injuries, peds, ACL repairs, falls reduction… and the list goes on…"
Stonehill Franciscan Services drastically exceeded first year expectations of their HydroWorx 2000 Series pool which was put in as part of the wellness addition to their campus. The goal was to serve the community along with their residents. They hoped to have 350 wellness memberships, but they garnered over 3,000 members in the first year.
To learn more about the program that Stonehill Franciscan Services uses and the financial impact it has on their community, download our Wellness and Therapy Program Profile here>>