Foot and Ankle Injuries Webinar is Now On-Demand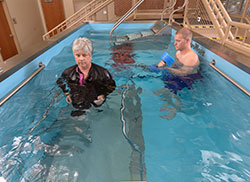 On November 24, 2015, we hosted a webinar titled, "Progression of Foot and Ankle Injury Rehabilitation Using Aquatic Therapy." In this webinar, Cheryl Bennett, PTA, CGT, Aquatic Therapist at University Physical Therapy, part of the nationally recognized OrthoCarolina orthopedic practice, located in Charlotte, NC presented on the topic of treating foot and ankle injuries during early stage rehab as well as during the transition from non or partial weight-bearing to full weight-bearing.
She reviewed the general principles she uses when working on foot and ankle rehabilitation in the pool. Her key areas of focus for this rehabilitation include:
Lower extremity flexibility
Lower body strengthening
Core engagement
And she noted that there are 4 phases of foot and ankle rehabilitation:
Edema symptom management and desensitization
Early motion/gait training and open kinetic chain strengthening
Closed kinetic chain strengthening/functional training/sport specific training
Return to sport or work
Cheryl reviewed two recent case studies she has treated in their pool in Charlotte, NC. The first case was a young man that fell from a roof incurring fractures to his right ankle and a Lisfranc injury to his left foot. His goals from rehab were to ambulate with normal gait, run and play with his children and play softball next summer. Once he was able to bear weight minimally, he was sent to aquatic therapy. He was also given home aquatic therapy exercise instructions because he had access to a community pool and was extremely motivated.
When he was discharged from formal therapy he had functional ROM in both ankles and mild decreased ROM in his left foot.
Cheryl also reviewed an Achilles tendon rupture case. Achilles tendon ruptures often occur in middle-aged male weekend warriors participating in sports. This case was a 35-year-old male who ruptured his Achilles while playing basketball. He was seen 6 weeks post-op and was instructed to only bear weight as tolerated until 8 weeks. His goals included rebuilding strength in his left Achilles and lower extremity and getting back to a healthy level of physical activity.
After his aquatic therapy he reported that he had more flexibility and decreased sensitivity at the incision site.
At the conclusion of the webinar, Cheryl took some questions from attendees. Here are a few of those questions and answers:
Do you wish your pool was deeper?
I don't have issues with the depth of the pool at treadmill, sometimes I find I need less water for shorter patients.
I have an athlete with a double Achilles rupture. Do you recommend aquatic therapy after the athlete is back to full contact play (soccer)?
If the pool has a treadmill, I would definitely have him run on the treadmill at the beginning to ease him back into the full activity. We have many local athletes that use the pool this way.
What level of pain is acceptable for patients to begin exercises in the water?
That is hard to answer because I have never had a patient tell me they have increased pain in the water. I've put people in with a 9/10 pain or 2/10 pain.
How does aquatic therapy fit into your overall therapy schedule?
Typically we do one day (or two) a week in pool and one day on land.
Have you ever had any trouble with insurance or Medicare paying for aquatic therapy?
Not yet. We do know that Medicaid will not pay for aquatic therapy.
What pool temperature do you recommend?
In North Carolina, we set the pool at 88 degrees in summer and 90 in winter, when it is cooler outside.
We are thankful that Cheryl Bennett from University Physical Therapy, part of the nationally recognized OrthoCarolina orthopedic practice in Charlotte, NC shared her expertise with us!