First Water Session for Knee Replacement Patient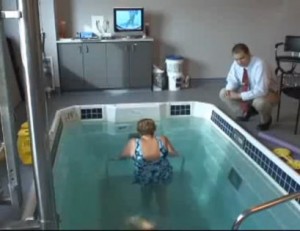 Rehabilitation after a knee replacement is difficult enough, but can be complicated by comorbidities such as degenerative back problems. For this patient that we filmed a few years ago, her first aquatic therapy session was extremely important for her success due to the surgery and degeneration in her lumbar spine.
Cynthia Carter-Koch underwent a knee replacement two-and-a-half weeks before this video was shot– the staples from her surgery were just recently removed. For her first time in the HydroWorx 500 Series pool at Star PT in Tiffin, OH, physical therapist, Terry Jolliff, took her through some initial protocols to increase her range of motion and regain mobility in her knee. Some of the protocols he used during her session included:
Walking warm-up
Small Squats
Toe Raises
Hip Flexion and Extension
Hip Abduction and Adduction
Hamstring Curl
Trunk twists
Lateral Step-Ups
Knee Flexion Stretches
Jolliff was able to assess the patient's capabilities in the water and push her to do some things that she wouldn't be able to do on land. Using the underwater video monitoring system, Carter-Koch was able to watch her gait and movements to maintain accuracy. During the hamstring curl, Jolliff noted that it was possible to measure the degree of flexion of the knee using the underwater cameras to monitor her progress.
Jolliff planned to use the underwater massage hose for her knee at her next session, but he was also able to offer her a back massage using the resistance jets, which she loved.
Watch her reactions to using aquatic therapy and view her first time in the pool:
Download the "Benefits of Aquatic Management for Treating Arthritis and Joint Replacement" Information Sheet
Many arthritis and joint replacement patients are prohibited from a land-based exercise program due to pain. Aquatic therapy offers this group relief and better outcomes through several of water's intrinsic properties. Find out what makes water such a key component of rehabilitation programming for these patients. Download this tip sheet today>>