Featured Practitioner: Aquatic Therapy Q&A with Dan Lorenz, DPT, PT, ATC, LAT, CSCS
Dan Lorenz, sports medicine director at LMH Health Therapy Services, has an appreciation of hydrotherapy that began long before entering his profession. In fact, it is a story that begins with his own journey of recovery.
Throughout different roles in his professional career path, he has utilized HydroWorx products to help athletes recover faster, establishing Dan as a firm believer in aquatic therapy.
HW: What was your first experience like with aquatic therapy?
DAN: "I went through it myself when I was an undergrad. I've had five operations on my knee; I had a meniscus transplant which is one of those cases where you can't do a lot for a long time. So, I was able to get in the pool and do movements that supported and facilitated my ability to walk sooner."
Since then, Dan has spent time at multiple HydroWorx customer locations either in study or staff, continuing to nurture his experience with aquatic therapy by incorporating it into his approach to rehabilitation and recovery.
He completed a sports medicine fellowship at Duke University, which has a HydroWorx 1200 and Plunge pools.
He worked with the Kansas City Chiefs, who use a HydroWorx 2000 Series and many hot and cold plunge pools.
He's now part of the team at LMH Health, which installed a HydroWorx 2000 Series.
HW: Were you part of the process of developing the aquatic program at LMH?
DAN: "It was already established but had I been part of it, with what they want to do with this facility, I would have recommended one anyway. If I was part of a, "we're going to build a brand-new facility, state of the art with all the bells and whistles", what would you do? I would say to include a pool without question! If I had a blank check for a facility, I would put in a pool with a treadmill."
HW: What makes you so passionate about aquatic therapy?
DAN: "It's such a great tool. The pool allows patients and athletes to do so some things faster because they are more weightless; things that they wouldn't be able to do on land. It's a fantastic adjunct and a great tool to help facilitate better outcomes."
Dan's extensive professional experience, including owning his own practice for seven years, has given him the opportunity to see how aquatic can be used for a wide range of situations.
HW: What are some examples of the versatility of aquatic therapy?
DAN: "For example, with a post-operative rotator cuff repair you can get patients moving sooner. The arm weighs about 6% or so of body weight and you can eliminate that through water's buoyancy and get some motion going. That's great!
With professional athletes, part of it is conditioning for them; they need to run. It allows them to stay in shape to a degree throughout their recovery. When you're on the shelf for an injury, your options for cardio are relatively limited. I can get their heart rate up a little by jogging in the pool or doing interval running without bearing weight."
Dan has observed that when people see their recovery progress, they become more determined, confident, and committed to their healing.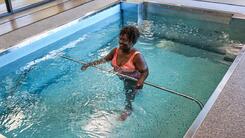 HW: How does aquatic therapy impact the recovery journey?
DAN: "It helps accelerate the process. People can be more active earlier than in situations where they don't have it. You can't weight-bear on land maybe, but I can get you weight-bearing and walking in a pool. In people's heads, their compliance with rehab goes up because they see the benefit of it. They're able to think, "hey, I'm on my feet, I'm not just limping along, or with crutches, in a wheelchair, or on my scooter, I'm actually on my feet walking again." They see there's movement and light at the end of the tunnel."
Dan has dedicated much of his life to helping others through difficult times in their lives by finding ways to speed up their rehab programs through aquatic therapy. He's helped athletes who were facing the potential of sitting on the sidelines for the biggest games of the year and helped patients regain their strength so they can get back to caring for their families.
This is ultimately HydroWorx's mission, too, shares Mike McHugh, Business Development Director at HydroWorx.
"Even with the impressive space HydroWorx has covered over 25 years in healthcare, senior living, neurological, pro and college sports, and high schools (the list goes on), there are still more people who have not experienced hydrotherapy than there are who have. Reaching those people has always been our ultimate goal. To help as many people as possible be able to experience successful and efficient recovery and rehabilitation."
If you want to…
Help your patients or athletes excel in their recovery and rehab
Find out which HydroWorx is right for your clinic or athletic facility
Learn how hydrotherapy can be used for your specific patient mix
Understand how aquatics can help strengthen business or team