Fantastic Four
What a remarkable finish!
Last week, on Wednesday July 17th,  the 32nd Annual Millers Mutual Harrisburg Mile took place. This race is one of the most popular and well attended in the Central Pennsylvania area, and this year HydroWorx had 4 special runners competing. The 4 members of the newly formed HydroWorx Track Club. Nick Berra, the 'leader of the pack' has been a familiar name within HydroWorx for many years now. Nick Berra is a masters runner and utilizes the HydroWorx underwater treadmill quite frequently to train for his runs as well as recover from them. Nick Berra is joined by Mary Dell (far left) and Kevin and Brian Fuller, all of which put on impressive top performances last Wednesday!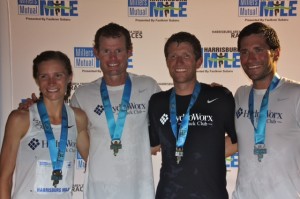 "I've run on the HydroWorx for probably  3-4 years now, especially now as I have gotten older. I find it is a great way to augment my land miles by getting in the pool- either for long slow distance work or even intervals now and then to break up the monotony or to give my legs a rest." – Nick Berra
For the Men's Elite Mile Group:
Brian Fuller : 4:21
Nick Berra: 4:24
Kevin Fuller: 4:25
The Women's Elite Mile Group:
Mary Dell- 4:55 mile!
Congratulations to these four all-stars on their impressive outcomes! Watch their finishes below as well as hear Nick Berra's thoughts following the race!
Page Updated on: March 19, 2020