Falls Reduction Programs Have a Big Impact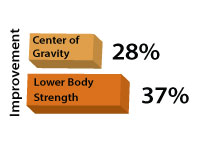 A specialized warm water pool in a senior living community can have a significant impact on multiple facets of residents' well-being. It can be used as a key component of rehabilitation from joint replacement surgeries, strokes, falls or maintenance of chronic conditions such as osteoarthritis. It can also be valuable as part of a wellness or fitness program. Interestingly, communities are also beginning to see great improvements in their falls when using warm water therapy as part of their falls reduction program.
One specific community, Lakeview Village in Lenexa, KS has been closely monitoring their falls data over the past few years to identify the actual impact their programs are having. Their falls reduction program includes the use of their HydroWorx 1200 Series Pool, a static pool, as well as land activities and is measured using multiple tests of ability. According to Jackie Halbin, Living Well Manager, at Lakeview Village,
"Thus far, there has been an overall 28 percent increase in center of gravity, 37 percent increase in lower body strength, and 19 percent moved out of 'fall risk' category, thanks to the program and the therapy pool."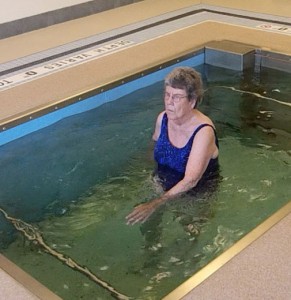 Balance and strength are improving as a result of using the resistance jets throughout the program. Additionally, with the adjustable treadmill floor, that can be raised or lowered from zero to six feet, participants are able to naturally progress through a series of tasks at varying water depths.
To learn more about the program that Lakeview Village uses and the impact it has on their community, download our Falls Reduction Program Profile here>>