Facility Spotlight: The University of Alabama Football
The University of Alabama Football team and their fellow students start to slowly flood Colleges and Universities throughout the nation they are greeted with new policies and guidelines to help prevent the spread of illness. Students have found campuses looking a little different this year as the "new normal" around campus begins to develop. While we recognize that sports seasons look a little different this year, we are happy to hear that many of our customers are starting their pools back up in some capacity.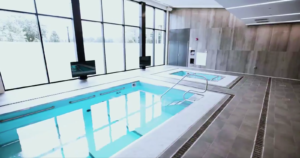 The University of Alabama recently posted a behind-the-scenes look at their brand new hydrotherapy room on Twitter. This video was one of several in a series of behind-the-scenes looks at the new athletic facilities around campus.
Jeff Allen. Associate AD, Sports Medicine and Jeremy Gsell, Director of Football Rehabilitation shared the new aquatic therapy space that the University of Alabama Football renovated which includes the HydroWorx 3500i and the HydroWorx 1200. This new pool room was part of a $600 million campus-wide project and initiative to update the athletic facilities.
The aquatic therapy room design at this facility is stunning and extremely functional because it includes glass walls and doors surrounding the aquatic therapy room which helps:
Jeremy and his training staff have sightlines on players who are in the training and conditioning room even if the staff is in the aquatics room
The aquatic room feels more open and inviting because it is not completely closed off from its surroundings
The video showcases natural light coming into the pool room which can make the room feel like its own oasis
"We chose HydroWorx technology for our new facility because we wanted a space to provide the best hydrotherapy rehabilitation to multiple athletes at the same time. The combination of technology in these two pools provides that for us. We feel that the ease of use, access, and immediate feedback is something we could only get from HydroWorx."
Bama Sports Science: Episode Three

Hydrotherapy#BamaFactor #RollTide pic.twitter.com/SsrMz9zuZv

— Alabama Football (@AlabamaFTBL) July 27, 2020
We know that utilizing our hydrotherapy systems to treat athletes for soreness and injuries is important and extremely beneficial for our customers. Much like everything else, guidelines and policies may be put in place to increase safety and stop the spread of the virus in those treatment areas. We know there are many schools safely returning athletes to school. Athletes and athletic trainers can wear masks in and around the pools depending on proximity to others, level of exertion and school policy.
Learn more information about treating athletes during the COVID-19 pandemic>>