Facility Spotlight: Intermountain Healthcare, Odgen, UT
In February, we had the pleasure of visiting McKay-Dee Hospital, Intermountain Healthcare in Ogden, Utah. This is a group that truly loves aquatics! They have wonderful success stories to prove that high-tech aquatic therapy really does uplift the spirits of patients and benefits their quality of life.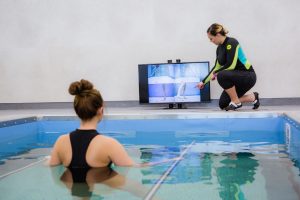 Keith Cook, PT at Intermountain Healthcare, shared with us, "I have a lot of patients who prefer the water and don't want to go back to land. It feels so much better while they're in the water and even after the fact. I have a couple of stroke patients that want me to develop a bubble of water that they can walk around in!" Keith and his team shared a few inspirational stories with us:
Download the FREE "Getting Started Kit" Today.
62-year-old woman has a goal of running two miles. Keith and his staff served a client who wanted to run two miles for the senior games, a local fun run, but she came into the facility with satiated knee pain and was frustrated about it. After working with her for three weeks, the Intermountain Healthcare staff never saw someone so happy. She was able to transition out of the aquatics program right into a land-based running program and met her goal of running two miles. And after 6 – 8 weeks, the patient met her goal of being back to where she wanted to be. The aquatic therapy that she experienced was just enough to get her over the "hump" and back on land.
Traumatic brain injury (TBI) patient desires to walk again. Samantha, one of Keith's physical therapists, was approached by a young man who had suffered a TBI and has been unable to walk since 2010 when he was involved in an accident. Recently, Samantha was able to get the patient in the water and walk on the underwater treadmill, and she immediately saw his eyes light up. He has not been able to easily move around for over 6 years. The patient is still working on transitioning to land, but the plan of care is gradually progressing to give him strength and mobility using the natural properties of water combined with advanced technology. Samantha can easily change the water level in the pool to various depths, such as deeper to allow the patient to move his muscles freely, learn activation and mechanics again and then progressively reduce the water level to waist-deep for 50% weight-bearing to eventually transition to land.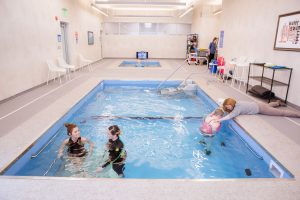 The properties of water, including hydrostatic pressure and buoyancy allow patients to be able to challenge themselves outside of their comfort zone by building confidence in an environment where if they lose their balance, they're safe. The underwater treadmill component helps patients move more freely and visualize, with the help of the camera, what motions they're doing and then use those tactile cues in the water.
Aquatic therapy has made a huge difference for Intermountain Healthcare. The patients enjoy the aquatic program that was created when the HydroWorx 2000 Series and 3500 Series were installed. Many in the community of Ogden, UT feel that the advanced technology aquatic therapy pools have been needed for a long time. Patients are happy with the outcomes and much their quality of life has improved. Keith and his team monitor the responses of their patients and set challenging goals to ensure the team meets the patients' high expectations.
Samantha stated, "Being able to work in a technologically advanced environment makes our experience as team members great along with having great people to work with. We're able to treat our patients better and help them progress faster. My life at work has changed tremendously since we've received the pools. Being able to see patients' that think they'll never be able to do a certain task again and then seeing them do it through supplementing water into their plan of care – that's been amazing."
Take advantage of our FREE tools that can help you capitalize on your investment of aquatics by requesting the "Getting Started Kit" today!