Facility Spotlight: The Hetrick Center
The Hetrick Center and HydroWorx have a history that some may not be aware of.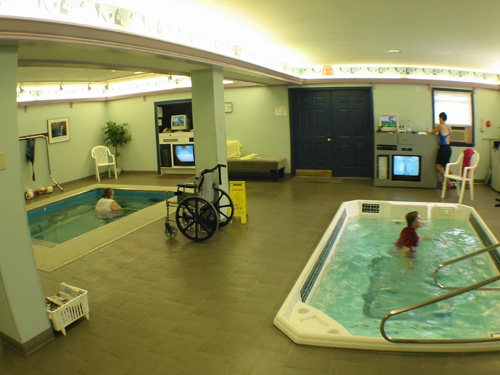 The Hetrick Center, founded and created by Dr. Paul Hetrick, D.C., R.C.R.D., C.C.E.P., has 4 locations in Central Pennsylvania: Middletown, Mount Joy, Mechanicsburg and Harrisburg. The Hetrick Center offers many services for their patients including- chiropractic medicine, physical therapy, aquatic therapy, massage therapy, medical nutrition and more.
The Mission ofThe Hetrick Center:
"The Hetrick Center is committed to empowering their patients to strive toward the highest quality of life. Their unique team approach begins with listening to the patients. Then, together they will develop and implement an individualized program to achieve their desired healthcare goals."
The HydroWorx and The Hetrick Center History:
In 1969, at thirteen years of age, while tossing a medicine ball at his school, Paul Hetrick violently struck his head on a porcelain water fountain. As a result, his brain swelled and his balance and muscle control were significantly affected. Hetrick was confined to a wheelchair, having lost the use of his legs. The medical community was surprised when the young Hetrick recovered nine months later, largely by rehabbing in a pool at the local Hummelstown, PA Swim Club.
Flash forward to the spring of 1987. Dr. Paul Hetrick witnesses an underwater treadmill contraption at a local horse track. Hetrick's reaction to the horse treadmill was immediate and purposeful—he planned to employ this radical technology for his human patients but with key improvements to the design. He had been searching for new ways to rehabilitate his patients for years. Hetrick and the horse trainer set to work and ultimately, the pair developed a highly functional aquatic therapy machine that was installed at Hetrick's rehabilitation facility in Middletown, PA.
That was the first of many versions of the HydroWorx prototype, what today is called the HydroWorx 2000 Series pool. 
In 1993, Anson Flake met Dr. Hetrick and his partner, Dr. Stoner, for help with a chronic knee injury. Flake, 26, was an avid runner and he began rehabbing in Hetrick's invention several days per week. After several months in the pool, Flake, an attorney, began writing a business plan to form a company around the invention. Hetrick thought the plan had potential and invited Flake to move into an empty room on the 3rd floor of Dr. Hetrick's clinic (now, The Hetrick Center) to focus on the start-up.
In May of 1997, HydroWorx officially launched the company with a party of family and friends. Flake went full-time with HydroWorx, becoming its CEO, while Dr. Paul Hetrick continued to expand his rehab practice & clinics.
Today, The Hetrick Center has multiple HydroWorx pools in its various locations where they treat and care for hundreds of patients each and every day. Each of their clinics are handicap accessible and have off street parking to accommodate patients' needs and conditions.  The original, HydroWorx 2000 Series pool, invented by Dr. Hetrick, still stands in The Hetrick Center clinic. With the built-in adjustable depth treadmills that raise above the surface of the water, to floor level permitting patients with wheelchairs, walkers or crutches direct access to the treadmill, allows for unlimited patient type use.  This newest rehabilitation tool speeds the recovery of the patient in a safe and comfortable environment.  Many post-surgical procedures can begin rehabilitation sooner in water minimizing rehabilitation discomfort and shortening the patients' recovery time.
Read more about The Hetrick Center
Upcoming free Webcast, presented by Dr. Paul Hetrick, D.C., R.C.R.D., C.C.E.P.:
See this facility from your computer via a live webcast or in person this Thursday, February 20, 2014. Dr. Paul Hetrick, D.C., R.C.R.D., C.C.E.P., President of The Hetrick Center and inventor of the HydroWorx 2000 Series, will be presenting the webcast, "The One Modality for All Patient Populations- Why Water Worx", Thursday February 20th from 5:00pm to 6:00pm EST. Dr. Hetrick will review the unique properties of water and offer insight on how the technology of the HydroWorx pool can work for almost any patient population.