Facility Spotlight: Baylor University
Chartered in 1845 by the Republic of Texas, Baylor University was one of the first educational institutions west of the Mississippi. True to its courageous beginnings, Baylor continues to blaze the trail of advancement, teaming up with HydroWorx—whose therapy pools dot the campus—to offer their student-athletes the best in athletic care and treatment.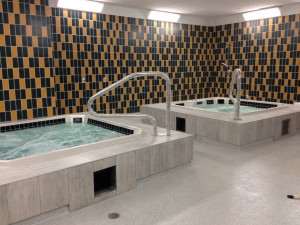 "We use the pools for all athletes—both indoor and outdoor," stated Mike Sims, Baylor's Head Athletic Trainer and Assistant Athletic Director. "Our training and conditioning staff really encourages the athletes to get in the pools. On especially hot days, we actually require pool use from our football players. We've found the cool water (of the PolarPlunge, kept at a cool 50 degrees) helps tremendously with muscle recovery times."
Sims—in his 34th year of service to Baylor's student athletes— places top priority on providing the Bears with the best, most technologically advanced equipment. Two side-by-side HydroWorx 1200 Series pools and plunge pools augment training efforts in The Simpson Center (a multi-sport facility). The pool's moveable floors and resistance jets for low-impact, pain-free conditioning provide trainers a valuable tool to improve their athletes' performances. Running against the resistance of the water enables athletes to build power, using water's property of viscosity to achieve a greater workout in a shorter period of time without the joint stress produced on land. Additionally, the hot and cold plunge pools create the ultimate muscle recovery and revitalization environment.
"The plunge pools have really helped us with managing our overuse problems," continued Sims. "With athletes dedicated to working out year-round now—doing the same sport, the same movement over and over—injuries are inevitable. The pools are a great recovery tool, whether it's an overuse problem or an acute injury.
"Initially it takes some cajoling to get the athletes into that cold water but then they start to see the overwhelming benefits and even wait in line or call on days off to get into the pool.  They see the benefits and they feel better."
Baylor's newly-completed McLane Stadium—boasting two more plunge pools—provides an eye-popping view for motorists along I-35. At the stadium, athletes will use the Thermal and Polar Plunges to reduce core temperatures, revitalize muscle, and ease the aches on game days.
"There are many products in the marketplace to choose from, all of which have their advantages. We choose the HydroWorx pools simply for the quality of the product. They are very durable and help us achieve exceptional results," added Sims.
We are proud to be a part of so many wonderful colleges and universities, such as Baylor University, and wish you all luck in your current and upcoming seasons!