Expected and Unexpected Advantages of Hydrotherapy
The following blog post has been summarized from the recent article, "Hydrotherapy Buoys Rehab Journeys" by Troy Moore, PT, DPT, CSCS, Founder of Central Kansas Orthopedic Group Physical Therapy & Sports Medicine.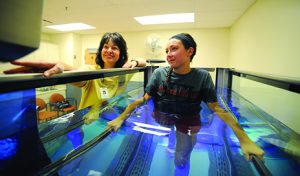 In this recent article, Troy Moore, Founder of Central Kansas Orthopedic Group Physical Therapy & Sports Medicine (CKOG), discusses how he was using hydrotherapy long before long before it was implemented into his current clinic. Therefore, he already knew the benefits for many of his clients. But even with that knowledge, there were still some surprises that came with starting a new program.
Here are four advantages of hydrotherapy that either met Troy's expectations or even surprised him:
Every population can benefit from hydrotherapy. While the intrinsic benefits of hydrotherapy for many are fairly obvious, it's not always possible, depending on the pool, to get everyone to experience it. Some are limited by mobility issues that don't allow them to transfer into a typical pool. Some, like children, can enjoy the water but are limited by their height and pool depth. Once CKOG put the HydroWorx 300 unit in their existing facility, they found that with the ability to adjust water depth levels with the touch of a button and use the seat, the range of their patient mix grew and they saw benefits for so many more patients.
High-tech hydrotherapy creates natural excitement. Certainly, a great marketing plan is a key to success for any physical therapy clinic, and CKOG was well-prepared to start creating buzz for their new hydrotherapy unit before it was even brought in. What they didn't anticipate was the word-of-mouth "marketing" that would occur because of the new technology. So much so, that Troy has been stopped in Walmart because of the news of the new unit.
The costs are out-weighed by the profitability. Taking on the costs of a hydrotherapy unit can be slightly overwhelming at first, but they quickly discovered that insurance in their state actually reimbursed at higher rates than for most other modalities. Even just a few dollars higher can have a great impact over time. They've also seen patients with certain conditions that are continuing to make major gains in the water, and insurance continues to pay for their treatments.
Hydrotherapy options open up creativity. One aspect of the job that many therapists love is the ability to be creative in order to get patients to have fun and see great results. A hydrotherapy unit offers a whole new modality in the "creativity tool box" to keep patients engaged. Sometimes one out-of-the-box idea or option can be a turning point for rehab. The options are wide open with hydrotherapy using technology integrated into the unit, such as underwater cameras, resistance jets and the underwater treadmill, or with everyday items like balls, kickboards and floats.
CKOG has discovered that by offering See how CKOG created an unforgettable marketing program>>