Exclusive Event with HydroWorx at LeadingAge
HydroWorx has put together an exclusive after-hours educational and demonstration event during the annual LeadingAge Meeting in Nashville, Tennessee at the end of the month.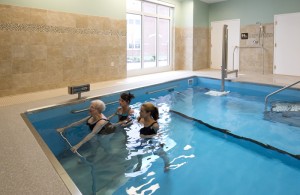 Join HydroWorx , Dr. Dennis Dolny, PhD and Department Head of HPER at Utah State University and Dr. Eadric Bressel,  EdD and Faculty Member at Utah State University, as they present "High Intensity Interval Training (HIIT) for the Active Aging Adult."  The program will feature a discussion on how HIIT can be modified to suit a variety of conditions from the aching elderly to the active senior population.  This demonstration is based on groundbreaking research from Utah State University and will utilize the HydroWorx underwater treadmill and resistance jets.
Dr. Dolny spent 24 years at the University of Idaho where he directed the Human Performance Lab. In 2008 he accepted the Department Head position in Health, Physical Education & Recreation at Utah State University. There, his laboratory collaborates with USU Sports Medicine in examining the role of hydrotherapy in rehabilitation following lower extremity surgical procedures and joint replacement in the elderly.
Dr. Eadric Bressel received his B.S. (1994) and M.S. (1995) in exercise science from California State University, Fresno, and he received his EdD in biomechanics from the University of Northern Colorado (1999). He is the Lab Director of the Biomechanics Laboratory at Utah State University. His research examines neuromechanical adaptations to therapeutic exercise, anatomical and biomechanical determinants of Achilles tendon rupture and neuromechanics of cycling. He is a member of the American and International Societies of Biomechanics and the American College of Sports Medicine.
All attendees will walk away with a better understanding of how HIIT can be transferred to a water based program for residents who cannot support their total body weight or have chronic conditions such as osteoarthritis.  A demonstration of the program will be presented in the pool along with a summary of land-based improvements in functional capacity and postural stability indices. Attendees will also be given information during the program on fall reduction and wellness programs, case studies, design assistance and ROI.
WHEN:  Tuesday, October 21st from 5:00pm-6:00pm
WHERE:  Leading Age Exhibit Hall, HydroWorx Booth #1436
Space is limited and will be based on a first come, first served basis. Please RVSP to Michele Reber. Guests of this event will re-enter the exhibit hall through the main entrance, Door A.  A HydroWorx representative will be at the main entrance to escort you to the booth.  Please RSVP no later than Thursday, October 16th.