Introducing the First Nominee for the 2015 Excellence in Aquatics Award (SMED)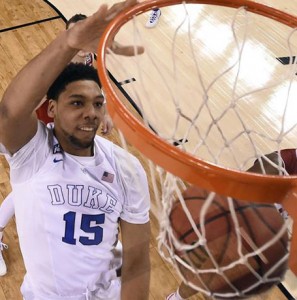 When Duke University's NCAA Men's Division I basketball team won the National Championship this year, the team's abundant talent was on display.  One player stood out in particular, a freshman rising star who snagged the coveted title of USBWA National Freshman of Year.  What many viewers didn't know was that he could have been sidelined or under-utilized during the final four games if not for a remarkable rehabilitation.
The story begins on February 18, 2015, when he injured his left ankle while engaging in a jump shot.  As he was coming down, his ankle landed on the foot of another player and twisted. The sprain was considered moderate-to-severe and would ordinarily mean missing up to three weeks of game time.  He was unable to bear any weight on the foot and required a boot and crutches. Yet with the tournament approaching, he decided he was going to aggressively work on his rehab and miss as few opportunities to contribute on the court as possible.
A major focus of his rehabilitation was performing exercises in the HydroWorx pool at Duke University under the care of the athletic training staff. He had used the pool in the past as a vehicle to obtain additional conditioning on top of his regular workouts, so he was familiar with the pool's intrinsic benefits. Two days after spraining his ankle, he began aquatic therapy treatment, including walking on the integrated underwater treadmill.
The results? He was able to rejoin the Blue Devils on the court in record time.  In fact, he missed only one game because of his condition – a remarkable achievement by any standards!  When he returned a week after his initial injury, he surprisingly dominated on the court, helping his team win against Virginia Tech in overtime, 91-86.
His story has been submitted as a candidate for the 2015 Excellence in Aquatics Award by Jose Fonseca, MS, ATC, LAT, Duke University's Head Men's Basketball Athletic Trainer, due to its inspirational message: If you use all the options at your disposal in a creative, safe way, you can truly achieve great and unexpected results.  Not only did the HydroWorx pool contribute to his ability to heal much faster than expected, it allowed him to maintain a consistent, healthy gait during recovery. As Fonseca explained in the school's application to HydroWorx, "This athlete would not have been able to return to play in the same fashion or in the same timeframe without the pool."
To vote for Duke University for the 2015 Excellence in Aquatics Award, visit https://ww2.hydroworx.com/vote-2015-smed.  You can vote once per day for your favorite inspirational story until voting closes.
Next week we'll focus a special blog post on another candidate for this prestigious honor, a player from the University of Tennessee.