European Football Clubs Use HydroWorx Technology to Shorten The Recovery Time From Injuries and Improve Player Fitness Levels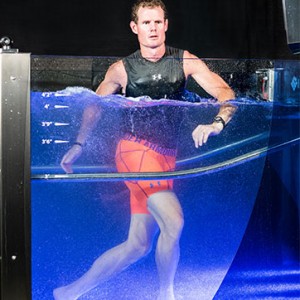 In the fiercely competitive world of European football, clubs are seeking ways to elevate their overall team performance, keep players on the pitch and available for match selection. Two football clubs have joined a growing bevy of teams that are embracing the power of water therapy and exercise to achieve their goals by adding high-tech HydroWorx pools to their facilities.
American athletic teams aren't alone when it comes to adopting the latest technologies and strategies to improve player performance, lessen the risk of overuse injuries and return to play faster from injuries. European football clubs are also searching for equipment and protocols that will give their athletes a desirable edge. Case in point: Two international football clubs, one in Germany and one in England are joining the list of European football clubs using HydroWorx.
In Germany, Bayer 04 Leverkusen recently purchased the new HydroWorx Series 300 underwater treadmill system. HydroWorx, known as the leader in developing leading-edge therapy and conditioning pools and related tools, unveiled its construction-free 300 Series unit at the National Athletic Trainers' Association Annual Meeting in June 2015. This is the first piece of HydroWorx water equipment that's construction-free, meant for smaller spaces and can be located in existing spaces like a rehab gym area, pool deck area or small room whose usage can be changed.
Michael Schade, Chief Executive Office of Bayer 04, says his medical and performance staff regularly chooses the best technology available for player care. "HydroWorx has a proven track record with many of the top sports clubs in the world to be an investment with an immediate return," he notes. "There is so much data out there like the 14-year UEFA Champions League study that proves teams with fewer injuries have better results… It is critical to get the players back from injury as fast as possible. Investing in the HydroWorx system was an easy decision for us."
Bayer 04's Health of Medical Department, Dr. Karl-Heinrich Dittmar, agrees. "To speed the recovery of our injured players, which will increase the number of players available for match selection, it was very important to add the HydroWorx 300 Series to our existing hydrotherapy area. Being able to introduce sports-specific, multi-directional movement earlier on the underwater treadmill allows us to replicate the movement demands of the game, including dynamic change of direction, earlier than we could on land. The HydroWorx 300 is also an excellent alternative conditioning tool with the combination of the fast underwater treadmill speeds… and the strong directional resistance jet. It's a very versatile piece of equipment."
In the UK, AFC Bournemouth Football Club has also taken the plunge by adding a HydroWorx 500 Series pool with underwater treadmill in August 2015. AFC Bournemouth, known as The Cherries, have taken center stage in the English Premier League, the top tier of the English football league system as a comeback team with a unique, refreshing story. Being near bankruptcy in 2008, the team has received 3 promotions in 6 years with their recent promotion into the Premier League this season. Dan Hodges, the AFC Bournemouth Head of Sports Science, has been amazed at how much he is able to do with the HydroWorx system already.
Says Hodges, "We have added the HydroWorx 500 series pool at our training ground and I have been amazed at how much we can do in the system. I have been using the HydroWorx as a supplementary conditioning tool recently, using the resistance jets and treadmill to get the player running or swimming intervals prior to training. It's been working very well! We are also able to put 4 – 5 players in at a time for post training or post-match recovery sessions. This will involve working sub maximally on the underwater treadmill using the water resistance to restore movement, whilst also incorporating various stretching and underwater massage techniques. Having past experience with static pools, the HydroWorx allows our medical and performance staff to do so much more that better prepares the players to return to the pitch and it is changing the way we use water on a daily basis."
Another benefit that AFC Bournemouth is taking advantage of is the HydroWorx 500 Series pool's ability to comfortably fit multiple players at a time for post-training or post-match recovery sessions. Hodges knew the HydroWorx name prior to using the equipment, and sees an exciting future thanks to the pool:
"Having past experience with static pools, the HydroWorx allows our medical and performance staff to do so much more that better prepares the players to return to the pitch. It is changing the way we use water on a daily basis."
Steve Hard is AFC Bournemouth's First Team Physiotherapist. Hard reports that he's replicating the movement demands of the game on the HydroWorx 500's underwater treadmill. "We are able to replicate the movement demands of the game on the HydroWorx 500 underwater treadmill and we are able to do that earlier than we could on land or in a static pool," he says. "The HydroWorx allows our injured players as they progress through the phases of rehab to perform multi-planar movement that includes acceleration, deceleration, and stabilization at multiple speeds in varying body positions. As a result, we feel the HydroWorx recovers the player more completely from injury and at a better fitness level as they return to play. The injured players love it and want to get in because they see the progress they are making and the fit players are enjoying using it for recovery after training and matches."
AFC Bournemouth's Project Manager who was in charge of the training ground expansion project that included the HydroWorx 500 Series installation, Darren Booth, is confident that this is the correct choice for the team. "The head of the club's Sports Science and Physiotherapy departments carried out a thorough research of the top English Premier League Clubs and it soon became very clear that HydroWorx provided the best solution for the club's needs. We were pleasantly surprised that they had such a cost effective hydrotherapy solution in the HydroWorx 500. An additional bonus was the minimal spatial requirements. The key to placing the order with HydroWorx was that I was also very impressed with the company's professional approach, sales and aftercare, passion and hard work with the installation of this pool in such a short space of time. The feedback from the staff and players to date is confirmation that the right decision was made. I would not hesitate in recommending HydroWorx for future projects of this nature.'