Erin Bussin: Return to Sport Protocol
Erin Bussin, the hydrotherapy lead and sports performance coach at Fortius Sport & Health (Vancouver, BC) was a featured presenter during our Spring Sports Medicine Webinar Series. She described how she treats athletes by using her 'Return to Sport' criteria. Erin specifically presented on treating athletes successfully using her 'Return to Running' and 'Return to Jumping' progressions. During the webinar, she discussed keys to success for any therapy program, the performance benefits and considerations of training in water, and the structure of her return to run and return to jumping progressions.
Erin began her presentation by describing 5 keys to success when training an athlete. These tips can be used when training athletes both in water and on land. She suggested doing the following:
Ensure that the therapy and coaching staff are on the same page
Educate your client on the importance of mechanics
Educate your client on factors that may affect recovery
Have a set of criteria-based progressions in place
Listen and react to your client's experience
These are 5 important points to focus on because it helps the therapy sessions progress smoothly for the athlete and it helps keep them on track to return to their sport quickly and safely.
Erin then discussed the performance benefits of utilizing water when training an athlete and she broke it into three sections: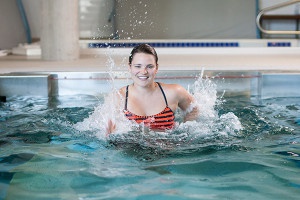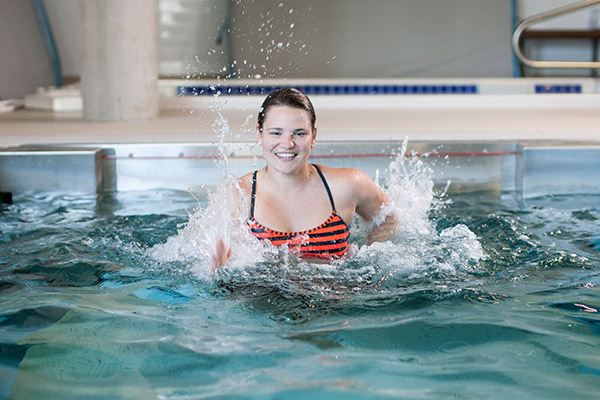 Early adaptations
Smarter loading
Better quality
She also discussed some considerations for training in water, such as:
Altered forces
Altered biomechanics
Types of muscle contractions
Muscle recruitment
Sport specific / load capacity
She emphasized the importance of watching the athlete and critiquing t
heir form when they are training in water. If the athlete is not doing the exercises properly in water, they can experience muscle damage or soreness when returning to their land-based exercises. She also highlighted the importance of having a plan or a progression path that athletes go through when returning to their sport. Her programs follow the structure below:
Progression 1: Clearance stage
Progression 2: Building movement patterns
Progression 3: Focus on goals
Erin's presentation was very informative, and she referenced published research to explain the science behind her approach to training athletes. To watch her webinar on-demand, click here.