DR. EADRIC BRESSEL LEADS MOVEMENT RESEARCH AT USU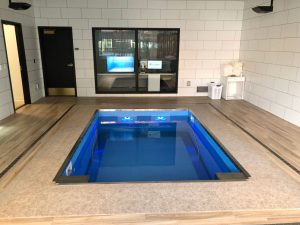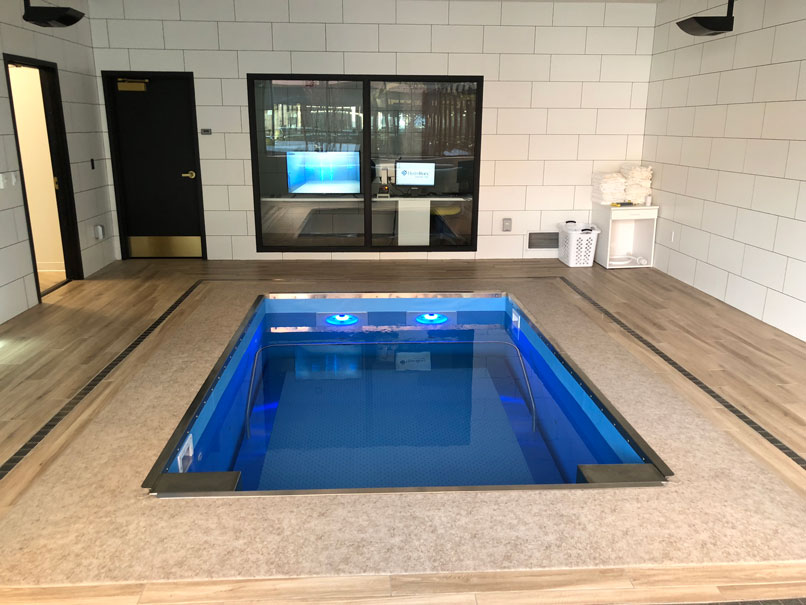 We recently posted a piece about the new Sorenson Legacy Foundation Center for Clinical Excellence at Utah State University. The project pulled clinics from 10 different buildings on Utah State's campus into one state-of-the-art edifice within the College of Education and Human Services. Part of the CCE is the Dennis G. Dolny Movement Research Clinic, headed by Dr. Eadric Bressel, professor of kinesiology and health sciences.
We had the chance to tour this outstanding facility recently and learn how Dr. Bressel and his colleagues will use the HydroWorx 2000 Series pool in the clinic. Here are some highlights of our discussion:
HydroWorx: In talking with Dean Foley, this building and the many departments it houses has a very collaborative nature. How does the movement research clinic work within this framework?
 Dr. Bressel: The two functions of the lab, mechanical movement and neuromuscular movement, support the collaborative nature of the building. For example, it doesn't usually happen that someone from my area, kinesiology, would be working with the Department of Marriage and Family Counseling. But we have received some funding through the state of Utah to get us started on a study of how an aquatic environment with an OA patient and their partner influences both physical outcomes in the patient and the care giver and how it influences their marital status. That's pretty cool stuff.
The space houses some of the most state-of-the-art equipment, like a forced treadmill, a harness system, and the HydroWorx underwater treadmill. The movement lab's orientation to the other clinics on site, right next door to audiology and balance, for example, position us to help answer complex questions about the human body. It's tough to answer these questions with just one discipline.
HW: What has surprised you in aquatic research lately?  
Dr. Beressel: Regarding our research, an unexpected direction we're going right now with aquatic research is how it affects cognitive health. When Dennis (Dolny, former Kinesiology & Health Sciences department head) and I got into aquatic research, we looked at the physical health of people. We saw great physical outcomes after receiving aquatic treatment. But we started to notice things about people in the water, cognitively, just the way they talked and moved; they seemed more "on it."
We've just published in an open access journal about cognitive health, grip strength, and age and how they are related and better in the water. You think water is going to just unweight and make exercise more comfortable but there is so much more than that.
There is indirect evidence that secretion of Oxytocin—the chemical released when people interact with each other—accelerates in an aquatic environment. We're looking into this as part of the research with the College of Marriage and Family.
HW: How does Dr. Dolny's passing affect the CCE and movement lab? NOTE: Dr. Dolny, the namesake of the research lab and long-time aquatic therapy advocate, passed away in January of 2018.
Dr. Bressel: The passing of Dr. Dolny significantly impacts the movement lab. With Dennis gone, we've lost our biggest advocate and much of the manpower to do the research. He secured our funding, had the administrative presence and the passion. We're at a tremendous disadvantage now. But the research coming out is so incredibly positive that it's going to warrant more people looking at it. We're going to need randomized control trial studies, which are incredibly elaborate, with massive groups of subjects needed. So that's a challenge. Those studies require a lot of resources and would require much more collaboration outside of our college.
HW: That's a great long-range goal for the clinic. What else are you looking to do eventually? 
The long-range plan is to work with physical and occupational therapists here in this clinic and serve the community both as a research facility and a clinic. This will take some work, because special certification is needed for insurance companies to become involved. We're discussing how to work this out. That's the piece we are missing right now.
HydroWorx is thrilled to be part of this great intersection of disciplines and departments at Utah State and to be a participant in the research conducted in this world-class institution. Watch for more news to come from the CCE!