Dr. Dennis Dolny Discusses Research and New Textbook
A new textbook was recently published, titled "The Use of Aquatics in Orthopedic and Sports Medicine Rehabilitation and Physical Conditioning," written by leaders in the sport & exercise and orthopedic industries.  Dr. Kevin E. Wilk, PT, DPT, FAPTA and Dr. David M. Joyner, MD, FACS, along with noted domestic and international leaders in the field, explore the aquatic techniques and principles detailed in the work, while presenting this scientifically-based material in an understandable and user-friendly format. This textbook includes information on the use and application of aquatic methodologies in both rehabilitation and physical conditioning appropriate for everyone from the general population to the elite athlete. We anticipate that this book will help advance the use and adoption of aquatic therapy globally.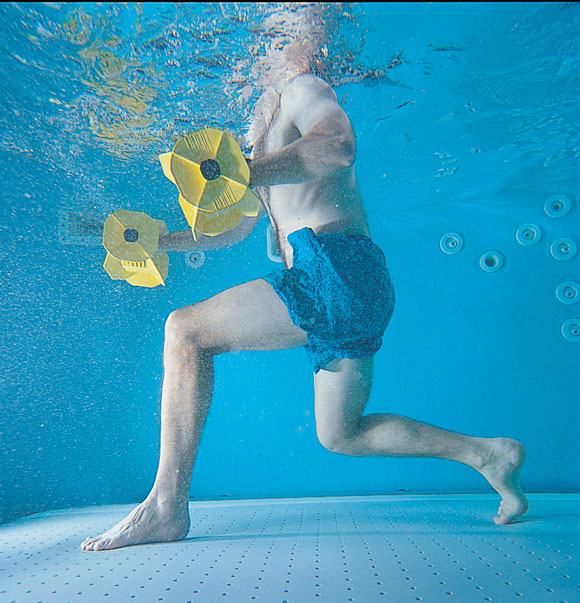 To offer an insider's perspective on the new, groundbreaking aquatic textbook, written by leaders in the sport & exercise and orthopedic industries; we are continuing to interview some of the chapter authors to learn what makes this textbook a must read for any rehabilitation clinician. For our fourth interview, we interviewed Dr. Dennis Dolny, PhD and Department Head of HPER at Utah State University.  Dr. Dolny is a co-author of  Chapter 10 titled, "Research Evidence for the Benefit of Aquatic Exercise."
Here is what he has to say!
Why did you feel it was important to be a part of this new textbook on aquatics?
So many physical therapists leave professional school training with little or no aquatic therapy preparation. This manual will provide the basis for instilling confidence in therapists to elicit mentoring in order to incorporate aquatic therapy into their practice.  
How long have you been doing aquatic-based research and what was the most shocking or surprising evidence you have found?
Our initial aquatic research projects began in 2005 focusing on using a water treadmill to enhance sport performance.  Despite the success with this population, we have discovered the benefits of water treadmill activities hold even greater promise for those who are "orthopedically or neurollogically-restricted" or need a safe environment to permit folks to challenge themselves with confidence.
What was the first aquatics research study you performed and why was it initiated?
While I was at the University of Idaho one of our track coaches questioned if the water treadmill was an excuse for track athletes to avoid completing a normal, "intense" workout scheduled for land. Our initial results demonstrated the water treadmill can elicit a maximal effort workout as intense as on land, plus delivers this intensity with much less joint stress and "heavy legs" typically reported by competitive runners following land workouts.
What are 2-3 consistent health-related and therapeutic benefits you have seen in your studies from individuals using an underwater treadmill for exercise?
Consistent results have been a greater enjoyment, a greater reduction in self-reported pain, improved measures of balance and postural stability while subjects report a greater feeling of confidence when performing land activities following exercise in a water treadmill. 
Based on your research, why should Osteoarthritic patients utilize aquatic therapy and exercise?
It appears from the evidence that aquatic therapy & exercise improves patient- reported pain and adherence compared to land-based activities, while occurring in an environment where patients feel more confident in challenging themselves to elicit benefits in balance and functional capacity. This improved experience will not only enhance the management of OA but provide a greater potential to positively impact co-morbities typically present in this population such as obesity and hypertension.
What effect do you hope this textbook might have on the field of orthopedics & sports medicine rehabilitation?
My impression is aquatic rehabilitation is sometimes recommended as a "last resort" when traditional land-based therapy has not been proven to be effective. Hopefully this textbook will begin to present aquatic rehabilitation as a " first choice" for facilitating onset of truly effective rehabilitation sessions when traditional land-based activities would restrict what a therapist and patient normally accomplish. 
Excerpt from Chapter 10
"Non-swimming aquatic exercise has increased in popularity in recent years. In addition to swimming, aquatic exercise forms include water aerobics, deep water running (DWR), shallow water running (SWR), and cycle ergometry. Recently, a relatively new type of aquatic exercise equipment, an aquatic treadmill (ATM), has been developed that joins a variable-speed underwater treadmill with pump-driven directional water jets to provide frontal resistance to ambulation through the water. The system emulates the exercise intensity control enabled by land treadmill (LTM) velocity and grade adjustments, permitting the user to engage in familiar walking and running activities and vary the intensity by increasing the treadmill velocity and changing the resistive force of the water jets. It is our purpose in this chapter to provide the reader with research related to the effectiveness of aquatic exercise for physical training and health benefits, with a particular focus on the recent finding using the ATM." Excerpt from Chapter 10, Page 115
Order your copy of the new aquatic textbook today!
On March 18th from 1:00pm to 2:00pm EDT, Ted Yanchuleff, PT, ATC, Manager of Outpatient Rehab Services for the Pinnacle Health System, will be presenting the free online webinar, "The Changing Healthcare Environment: Is There a Role for Aquatic Therapy?" This webinar attempts to address some of the implications on an aquatic therapy program associated with the integration of the Affordable Care Act into the United States Healthcare delivery system. The webinar will also explore what role aquatic therapy can play in this environment and will discuss potential benefits that aquatic therapy may offer ACOs.