Doug Boersma: Return to Play of an Injured Athlete
Our Spring Sports Medicine CEU Program concluded with Doug Boersma of Purdue University sharing a great case study, sage advice, and a behind-the-scenes look into the successful case study. Doug is the Director of Performance and Sports Medicine as well as the Associate Athletic Director at Purdue. Doug has spent his career treating injured athletes and helping them return to their sport. Throughout his presentation he showcased several ways to do the following: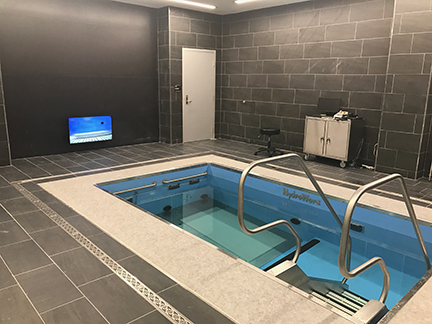 Involve his athletic training students in the treatment processes for the athletes
Implement a successful aquatics program
Monitor the athletes that are going through the program
Involve Athletic Training Students
Athletic training students have some exposure to aquatic therapy, but Doug feels that it is important for his students to experience aquatic therapy rather than just read about it. His presentation included videos of his students doing drills in the pool and learning how to administer workouts.
Implement a Successful Aquatics Program
Doug discussed several things to think about when building a successful aquatics program which included having a trained staff that is confident and can instill confidence in the athlete and working with other staff members to ensure that the athlete is being treated safely and effectively. This could mean working with the strength coaches, nutrition team, and any other doctors that the athlete visits regularly.
Monitor Athletes
Doug spent a majority of the time talking about the athletes and how to monitor them as they progress through the return-to-play protocols. One thing he heavily recommended doing was monitoring their body language during exercise. Doug shared how he put a student athlete through return-to-play protocols on land and he could tell the athlete was getting discouraged and was in pain. When he moved this athlete to the pool, he noticed that the athlete was progressing through the protocol much more quickly, he wasn't as sore, and he was having more fun.
This presentation was valuable for anyone trying to learn how to build their aquatic program. Doug shared he started and built his programs from the ground up and some things to consider along the way.