Can Aquatic Therapy Influence Cognition or Gait? Access this Webinar On-demand to Find Out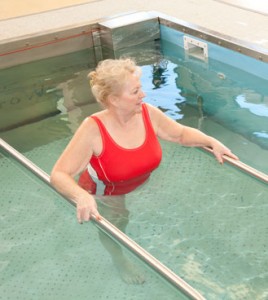 On April 22, 2015, the ICAA hosted a webinar titled, "Influence of an Aquatic Environment on Cognition and Gait." In this webinar, Dr. Eadric Bressel, Professor and Clinical Research Scientist in the Sports Medicine Program and Dr. Dennis Dolny, Department Head of Health, Physical Education & Recreation in the College of Education & Human Services at Utah State University in Logan, UT discussed two different research studies where they have seen an impressive impact from an aquatic environment on cognition and from an underwater treadmill on gait.
Drs. Bressel and Dolny have performed extensive research on aquatic therapy and underwater treadmill training. Through the years, they have identified some remarkable findings on aquatic therapy regarding subjects such as osteoarthritis, balance, metabolic cost and lactate threshold.
In the webinar, they reviewed two different studies done on aquatic therapy:
Effects of water on cognition: Based on an Australian study regarding blood flow to the brain, they chose to perform a further study of the effects of an aquatic environment on cognition. Dr. Bressel spoke specifically on their findings and included a sample of  the cognition study, images of participants doing the study, balance board results, cognition results and a sample audio cognitive test. In this study, they found that cognitive abilities actually increased in the water, which was not what they expected to see.
Shallow water walking vs. treadmill water walking: Having both a static pool and an underwater treadmill pool at Utah State, they set out to identify what, if any, difference existed between the two and if there were any advantages to either. Dr. Dolny presented the differences they observed in speed capabilities, ROM and stride length in both environments as compared to land. Based on this information, it is apparent that underwater treadmill walking provides results much closer to those of land walking, which can help bridge the gap between early rehab and late stage rehab. Videos were presented to show the differences, and it was obvious that gait abnormalities were present during shallow water walking in a static pool to a much greater degree than while walking on an underwater treadmill. The webinar audience provided clinical feedback on the patient's static pool gait by identifying abnormalities such as, lumbar strain, arched back, forward torso, lack of heel strike, limited ROM and stride length.
We continue to be amazed by Dr. Bressel and Dr. Dolny's findings on aquatic therapy. We recognize so many commonly understood advantages of aquatic therapy, as well as anecdotal evidence from case studies, of aquatic therapy, but this new research is truly groundbreaking.
They did a great job describing their methods and processes in this webinar while providing clear and concise data. To learn more about these research studies, view the webinar on-demand – only available until Friday, May 1, 2015!