Dog Tired? Try Underwater Treadmill Training!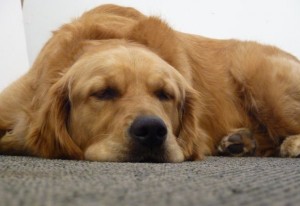 We've always said there's no limit to what a HydroWorx pool can do — but we never expected this! Our competitors may claim that HydroWorx pools have gone to the dogs, but in fact, it turns out the opposite is true. The dogs have come to us!
The story details the use of underwater treadmills for pooches to keep them active during the winter months.  At Canine Aqua Balance, dogs are pampered at the indoor pool facility — they can swim, walk on an underwater treadmill and just have fun socializing in some warm H2O.
Is your pet skittish around water? The experienced team at Canine Aqua Balance will have him or her doing the doggy paddle in no time! Regular swimming is a great way to keep your pet healthy, particularly during a long winter when they may not get as much outdoor time as they'd like.
As the article notes:
At first glance it may all look like fun and games, but Tamara says the health benefits are huge for dogs in their rehabilitation program. They have the option of working on an underwater treadmill, an endless pool, or taking part in the open swim times. She says working in water makes it easier for them to exercise and the geriatric dogs really benefit from it.
Sound familiar?
We've known of the benefits to underwater treadmills for years… that's why HydroWorx was founded.  In fact, our first prototypes were based on models used to help condition and rehab horses.  So it seems that it's all come full circle.
In the end, if you're "dog tired" of your regular workout routine, find a HydroWorx underwater treadmill near you and get your paws… er, feet… moving!
Request a Free Info Kit     View Our Products     Find a Pool Near You
Page Updated on: July 9, 2020