Demo The HydroWorx 300 at CSM 2017
We are excited to be heading to San Antonio for the Combined Sections Meeting (CSM) of the APTA in two weeks! We will debut our latest product, the HydroWorx 300 in booth #1301 this year. This free-standing aquatic therapy modality, great for existing spaces, provides numerous benefits, including increasing client referrals, improving patient outcomes and differentiating your clinic, all at an affordable price.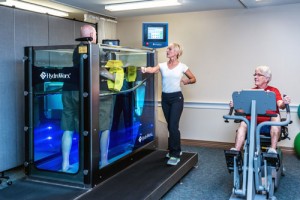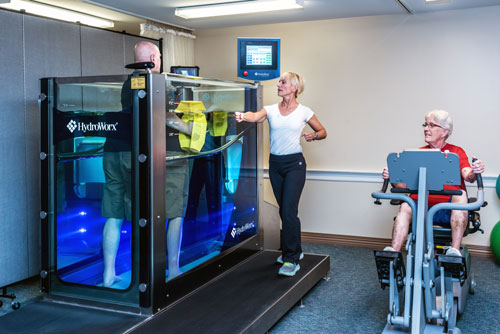 5 Reasons to Check Out the HydroWorx 300 at CSM in Booth #1301:
Fitting through a 36" doorway, the HydroWorx 300 provides a solution to easily bring aquatic therapy to facilities that previously could not offer water due to construction restraints, leased space or a small clinical footprint.
It can be placed next to land-based equipment. Your aquatic patients can be in the same line of sight as your land patients.
Offering an underwater treadmill and resistance jet will differentiate your clinic from others in your area.
Learn more about our affordable financing options and how other clinic owners have quickly paid for their HydroWorx.
Offer a new program to treat more patients with limited mobility or those that have stopped progressing on land.
Schedule a time for a demonstration during CSM in Booth #1301 today. Space is limited. Register Today! In addition to debuting the 300 Series, we will be hosting an exclusive evening reception.
If you are exploring the benefits aquatic therapy can offer your patients and business, we'd encourage you to attend this casual event with drinks, hor d'oeuvres and education.
Join us for a free educational reception to learn about the "The Value of Aquatic Therapy in a Physical Therapy Setting." Learn best practices for implementing a successful aquatic practice including: ROI, Medicare billing guidelines, maintenance requirements and clinical conditions that respond best to aquatic therapy.
Friday, February 17, 2017
HydroWorx Booth #1301
Henry B. Gonzalez Convention Center
5:00 PM to 6:30 PM
Speaker: Tony Pazzaglia, PT, DPT, OCS, ATC, CEO of Terrapin Physical Therapy, Inc.
Speaker Bio:
Tony Pazzaglia began his collegiate educational journey at a Junior College in Monterey while planning for business studies and took an Anatomy as a general education requirement. This single class changed of course of study plans and Tony was struck by the need to explore careers that involved human anatomy. Tony enrolled in the 1st Physical Therapy Class to graduate at Sacramento State and returned to his hometown to work again for his mentor, this time as a Physical Therapist/Athletic Trainer. Tony created his 1st clinic, Carmel Valley Physical Therapy in 1999 where he began a multimodal approach to orthopedic problems including Aquatic Therapy. In 2005, Tony and his wife Heidi opened Terrapin Physical Therapy, Inc. incorporating the best applications of land and water therapies. Tony earned his Orthopedic Clinical Specialist Certification in 2006. Focusing upon development of the best outpatient practice management skills, Tony completed the Evidence in Motion Private Practice Management Program and later earned his Doctorate in Physical Therapy from EIM School of Health Professions. Also in 2016, Tony and Heidi opened Ripple Physical Therapy to meet the increasing customer demands for land and water physical therapy treatment for people with orthopedic problems.
Attendance is limited for this special event and advanced registration is required for re-entry to the exhibit hall. Please RSVP by February 10th!