4 Benefits of Transitioning to a Dedicated Therapy Pool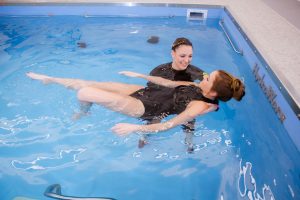 The following blog post has been summarized from the recent article on Rehab Management online, "Aquatics Makes an Instant Splash" by Rebecca Burke, PT, DPT, GCS at Rock Valley Physical Therapy in Davenport, IA.
Rock Valley Physical Therapy has long believed in the advantages of aquatic therapy for their patients. After having used aquatic therapy in the local YMCA for years, the opportunity arose to acquire a dedicated therapy pool for their well-established program. They have seen many advantages from having their own therapy pool on site in conjunction with an orthopedic clinic, such as:
They are able to treat a wider range of patients. Rock Valley PT was no longer limited in what they could offer. They had more times available, better control over water temperature and more staff availability. They now average about 40 visits per week to the pool.
They have built-in referrals to the pool. The proximity of the referring doctors and the physical therapists has created an ideal situation for referrals, ease of communication and patient comfortability.
They can offer cash-pay maintenance programs. Some patients see such great success from their work in the pool that they are interested in maintaining their fitness long after their therapy is complete. Rock Valley PT opens their pool for 2 hours a day for those patients to maintain their progress.
They can use the pool for pain management. Some patients have difficulty progressing on land due to pain. The staff now has the option to offer aquatic therapy in a warm water pool in order to decrease pain while improving function.
Certainly, as with any modality, there are clients that are hesitant or doctors that have concerns. Rock Valley PT has been able to overcome many of these objections over time. For patients that do not know how to swim, they can start them in the shallower section of their therapy pool and then progress them to the deeper section with a gait belt or physical therapist in the pool. For those that are unsure of how it could really help, they can get them excited with the underwater camera technology to show how they will be able to see their progress in real-time. And for the doctors who are hesitant to refer certain patients to aquatic therapy, the physical therapists at Rock Valley PT have the advantage of walking down the hall and having open communication regarding those patients that they believe would really benefit.
Interest in the warm water therapy pool has exceeded expectations, and opportunities to improve patient rehabilitation outcomes continue to evolve as they use the pool more.