Dallas CCRC, Presbyterian Village North, Values Water for Residents' Health
We recently stopped in  at  Presbyterian Village North in Dallas, Texas to chat with with assistant physical therapist, Ryan Chiltikes.  With a large static pool and a HydroWorx 3500 Series pool (with not one but two underwater treadmills!), this continuing care retirement community believes that warm water exercise and therapy can have a tremendous impact on their aging residents.  When we sat down with Ryan, he discussed in great detail why HydroWorx, works!  Their aquatic therapy pools have had a positive impact for the residents at this community.  Read Ryan's comments below to learn how!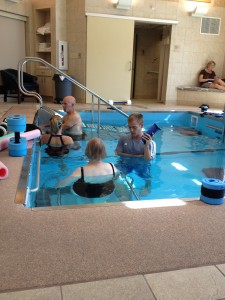 HW:  Have you witnessed or noticed better compliance and participation for wellness activities, such as fall prevention exercises, when using the pool?
Ryan: Definitely!  Patients are more and more willing to come down to therapy, and it seems like I can push them more in the pool with less resistance, and it's better on their muscles and joints, so they're really enjoy using the pool.
HW:  Would you say that's due to less pain?
Ryan: Yes, definitely. The resident's increased compliance has a lot to do with the fact that they are in less pain during their rehab.
HW: Has the wellness, and/or aquatic program grown since using the pool? Has it increased when using the underwater treadmills?
Ryan: It seems like more people want to get in our long-term facility and our independent living facility. They want to come out make use of the pool and the underwater treadmill.
HW: Have you seen better fall prevention results due to using the pool? 
Ryan: I believe so!  I have been able to push patients more balance-wise, and challenge their equilibrium.   [HydroWorx Extra:  Utilizing the adjustable force of the resistance jets is a great way to challenge a resident's proprioception to increase strength and enhance balance.  In the water, there's no fear of falling down… just getting wet!]
HW: Can you relate increased admission, in your sense, due to interest in the pool?
 Ryan: Definitely.  One of our main selling points is having patients come in and see the pool from word-of-mouth referrals. In addition, other physicians that know our pool is here, and we have had referrals come over for new patients especially.
HW:  That's great.  What are some of the expected and unexpected positive results that the aquatic wellness, or pool program have yielded?
Ryan: Positive, definitely would be the outcomes.  We have had patients start in the pools two days a week, go home, come back for outpatient, and you can tell from the beginning to the end that that pool has really increased their muscle strength, balance, and coordination during walking, especially because of the underwater  treadmill.
HW: Would you say residents prefer using the pool, over the land therapy?
Ryan: Yes!
HW: There's a pretty good correlation between getting them in the pool to get them back on land, correct?
Ryan: Yes.  You need a good mix of both, and we usually like to do two or three days a week in the pool, and do the others on land, because you definitely need both, but the pool is a good accessory to it.
We would like to thank Ryan for taking his time do this interview, and the rest of Presbyterian Village for being customers!  To learn more about the benefits of warm water therapy for the aging adults, click here!